Celebrate safely with TriMet with extended MAX service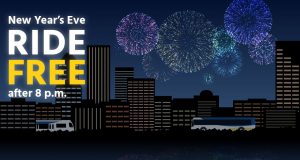 Celebrate the New Year safely with TriMet. On Sat., Dec. 31, all MAX and bus service will be free after 8 p.m., and MAX service will be extended until around 3 a.m. Rides on Portland Streetcar will also be free.
MAX Blue, Green, Orange, Red and Yellow line trains will run on Saturday schedules with extended late-night service running approximately every 30 minutes until about 3 a.m. Late-night service on the MAX Red Line will be provided by a shuttle bus between the Portland International Airport and Gateway Transit Center. Riders heading to the airport can take a Blue or Green line train to Gateway TC and transfer to the shuttle bus. Find out about TriMet's New Year's services and plan your trip on our website, then just hop on board! 

Celebrate safely and responsibly
Be alert and pay attention around buses and trains.
While celebrating, be respectful of our operators, vehicles and other riders.
Be aware of your surroundings. If you see something suspicious, say something to a TriMet employee, a police or security officer, or call 9-1-1.
Monday, Jan. 2 service
In observance of the New Year holiday on Monday, Jan. 2, all MAX and bus service will run on Sunday schedules. WES Commuter Rail will not be in service. Our 503-238-RIDE (7344) Customer Service call center and the TriMet Ticket Office at Pioneer Courthouse Square will be closed. The Online Trip Planner and TransitTracker will reflect the holiday schedules.