Washington Park Station now features Verizon wireless service

TriMet's Washington Park Station is the deepest transit station in North America and now, for the first time, Verizon customers will find themselves connected at the station 260 feet underground.
Verizon worked with TriMet to allow MAX riders on the Verizon network to now text, surf the Web, catch up on social media and more while at the station inside the Robertson Tunnel.
Other wireless service providers have submitted unsolicited proposals to establish wireless service at the Washington Park Station as well, but Verizon is the first to work through the process to install the necessary equipment. Verizon isn't just stopping at the platforms. The company has submitted a proposal that would extend its service throughout the 3-mile long Robertson Tunnel.
"Verizon customers depend on our network to stay connected throughout their busy days," said Jonathan LeCompte, Pacific Market President for Verizon. "Bringing our 4G LTE network to TriMet's Washington Park Station is part of our continued effort to provide a best-in-class wireless experience for our customers wherever they live, work and play."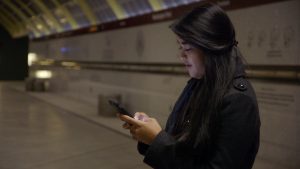 "We're excited to help TriMet riders stay connected while underground at our Washington Park Station," said TriMet General Manager Neil McFarlane. "This partnership with Verizon speaks to TriMet's strong reputation of using technology to help our riders plan trips, track arrivals and pay their fares."
Verizon installed the equipment at no cost to TriMet. Also, as part of TriMet's standard leasing agreement, the agency receives a $2,000 fee from Verizon annually.
The Washington Park Station is the only MAX Station located completely underground, and is served by MAX Blue and Red lines.
Be Alert. Be Safe.
Whether using your mobile device at the Washington Park Station, at or near other MAX stations or when crossing streets and tracks, please pay attention to trains coming and going. Stay back of the white, bumpy strip on the edge of platforms and be aware of your surroundings. Your safety is important.