On-board survey takes place on buses and trains through early December

TriMet is launching its annual fall on-board survey this week, talking with riders on buses, MAX and WES lines. The system-wide survey has been performed for decades to gather data on rider travel patterns, trip purpose, frequency of riding, customer satisfaction and demographics. The information helps inform our programs and policies.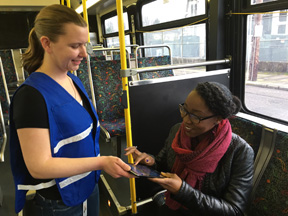 The survey team
About 25 temporary employees have been hired to perform the brief on-board survey that wraps up in early December. The survey team is made up graduates or current college students, and about half of the team is bilingual. The surveyors are easy to spot:
Each person will wear a blue vest labeled "TriMet Survey Team" on the front and back, and have TriMet photo ID
They will approach riders on the bus, MAX and WES and ask them if they want to take a brief survey
Responses will be entered into the tablet by both the surveyors and passengers
Learn more about the survey at trimet.org/research.