Witter has extensive experience leading complex projects, and delivering them on time and on budget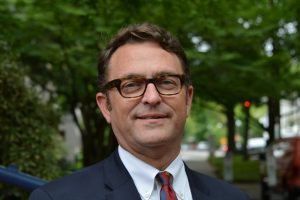 Steve Witter has been promoted to Executive Director of TriMet's Capital Projects and Construction Division. General Manager Neil McFarlane selected Witter to lead the division because of his leadership on major construction projects, most recently on the MAX Orange Line.
In his new position, he will lead all planning, development, design and construction, and improvement of TriMet's capital projects, including many state of good repair efforts, the Powell-Division Transit and Development Project, and the Southwest Corridor light rail project. The Capital Projects and Construction Division has 84 employees and a 2017 operating and capital budget of $43 million.
"Steve brings great qualities to direct this division that include leadership, collaboration, and creativity as demonstrated by his years working on many of our light rail projects," said McFarlane. "It's exciting to see him excel and become part of TriMet's executive team."
Witter most recently served as Program Manager for TriMet's $1.5 billion MAX Orange Line, known as the Portland-Milwaukie Light Rail Transit Project, which opened on time and about $50 million under budget.
During his 15-years at TriMet, he has also worked in various capacities on other Capital Projects, including conceptual design of the MAX Green Line (opened in 2009), the MAX Yellow Line (opened in 2004), WES Commuter Rail (opened in 2009) and planning work for the Columbia River Crossing.
Witter has a Masters Degree in Architecture from the University of Oregon, and has taught design and graphics courses as an Adjunct Professor of Architecture at Portland State University.
A lifelong Portland resident, he lives in SE Portland's Woodstock neighborhood, is married with a teenage son. He also enjoys boating, fishing, and has a passion for promoting men's health issues, spearheading TriMet's "Movember" campaign.
Witter replaces Dan Blocher, PE who retired in early May.