Offer includes a three-percent annual wage increase
In a letter sent last week to the Amalgamated Transit Union (ATU), TriMet offered to extend the current contract for two years, including the same three percent wage increase as in the current contract. The current collective bargaining agreement between the ATU and TriMet expires Nov. 30, 2016.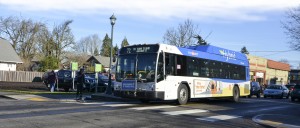 TriMet Executive Director of Labor Relations and Human Resources Randy Stedman noted in the letter that, "Given recent bargaining history, there remains a potential for another long, contentious negotiation culminating in binding interest arbitration. My hope is that both parties see the benefit of avoiding such a result, especially at a time when our agency is adding new jobs, expanding service, and regaining the confidence of the public, especially the business community."
Stedman added that extending the contract would result in "improved labor-management cooperation and partnership, allow the entire workforce to more fully engage in the exciting new projects the agency has in front of it, and avoid contentious successor contract negotiations."
He invited the ATU to participate in a labor-management meeting to discuss extending the contract through Nov. 30, 2018. As both parties are actively preparing for upcoming negotiations, discussions to extend rather than negotiate a contract would need to conclude within 45 days.
Two-year contract extension
Extending the contract would include all current wages, hours, and terms and conditions of employment in effect at the end of the current contract, including a three-percent annual increase in both December 2016 and 2017, just as union employees received for the last two years of the current four-year contract.
Other transit agencies nationally have averaged well below three-percent wage increases in recent contract settlements. TriMet included the three-percent increase in the extension because our represented workforce provides an outstanding level of service to our customers. TriMet believes its represented workforce is favorably positioned compared to the market. Extending the contract for another two years ensures the total compensation of our represented workforce remains above most transit agencies.