Installation not expected to disrupt service; platforms will close but access to MAX service will remain
TriMet will continue installation of elements of its new electronic fare system, called Hop Fastpass™, at another major transit center on Saturday, Feb. 13, which will include platform closures.
Crews will put in the underground equipment needed to power Hop Fastpass card readers at the Rose Quarter Transit Center Station as well as install the stainless-steel masts that will hold the readers.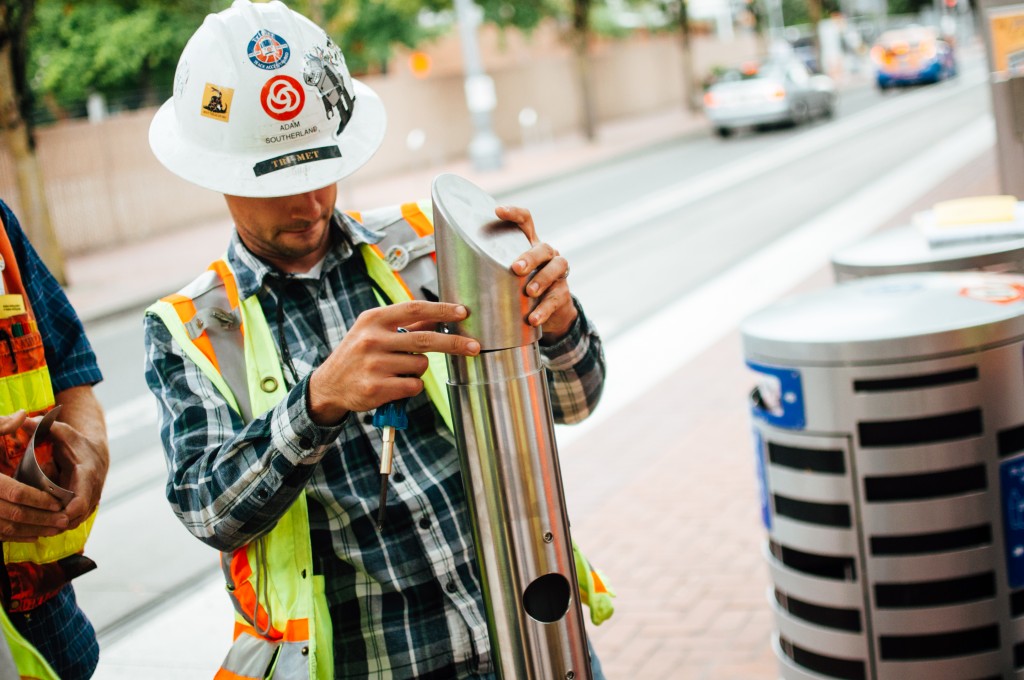 The work will occur during MAX and bus service generally between 7 a.m. and 6 p.m. and the station will remain open during construction. The construction is expected to be finished by the end of March. Riders should use caution around the construction zones. Signs are posted to alert riders of the construction and platform closures.
Rose Quarter TC platform closures
E-fare construction will close the three Rose Quarter TC platforms at separate times.
• February 13-17: Center platform closed. Board westbound trains on north platform. Board eastbound trains on south platform. MAX doors only will open on the right side.
• Feb. 26 to late March: North platform closed. Board all trains on center platform. MAX doors will open on both sides. The north platform will be used for events after March 6.
• March 1-9: South platform closed. Board all trains on center platform. MAX doors on eastbound trains only will open on the left side.
Hop construction update
Every MAX station will have at least two e-fare masts with card readers. So far, we've installed 189 e-fare masts at MAX and WES Commuter Rail stations with the remaining 79 scheduled to be installed by April. Readers then will go on the poles and is expected to be completed in the spring. What do people think of the new Hop Fastpass masts? Watch this video.
About Hop
Paying for transit will be faster and easier when Hop Fastpass launches in 2017. Riders can validate their fare by tapping a card reader with their Hop Fastpass smartcard, a smartphone with payment systems like Android Pay or Apple Pay, or a bank card with near field communication. Hop will be valid on C-TRAN buses, Portland Streetcar and all TriMet buses and trains.
With Hop, you pay as you go. Once you reach the cost of a Day Pass, currently $5 (the same amount as two 2½-hour tickets), the rest of the rides that day are free. Same is true on a monthly basis—once you reach the monthly pass' cost, the rest of your rides that month are free. For example, if a person who rides every day, the rides would be free after day 20, which is ideal for riders who want the benefits of a monthly pass without the upfront cost.
Hop Fastpass cards will be available at more than 500 retail locations, including supermarkets, convenience stores and pharmacies. Riders will be able to load value over the phone, website, on a mobile app or at the TriMet Ticket Office. Learn more about Hop Fastpass, provide feedback and sign up to receive updates at myhopcard.com