Work to begin in January on Gresham platforms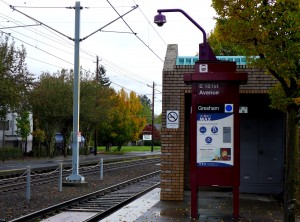 MAX riders will notice changes in the coming months as TriMet invests in safety improvements and station upgrades on the East side. Fourteen stations between Hollywood/NE 42nd Ave Transit Center and Cleveland Ave will undergo renovations that will increase safety and security, and pave the way for information displays and equipment for our upcoming electronic fare system.
The Blue Line improvement project will stretch over five years and is currently estimated to cost $12 million. Work will begin at seven stations in Gresham in the coming months:
E 162nd Ave
E 172nd Ave
E 181st Ave
Ruby Junction/E 197th Ave
Gresham City Hall
Gresham Central Transit Center
Cleveland Ave
In January, crews will begin by removing trees on platforms to increase security camera views and make way for more and better lighting. Cameras will be upgraded, shelters will undergo changes, including improved windscreens, and other amenities will be installed. The changes will create better visibility, increase safety and discourage inappropriate activities. The trees that are removed will go to an organization that provides firewood for low income residents.
Improvements also coming to four Gresham pedestrian crossings
TriMet also will be making safety improvements at several Blue Line pedestrian crossings in Gresham beginning in January. The crossings will be realigned to be perpendicular to the MAX tracks. New pedestrian warning systems and channeling will be installed. Currently the work is not expected to disrupt MAX service. Each crossing project is expected to cost approximately $350,000.
The improvements will be completed in the coming year at the following crossings:
NW Division & NW Mignonette
NE Main & NE 10th Drive
NE Roberts & NE 10th Drive
NE Hood & NE 10th Drive
Most of the work will be done Monday through Saturday between 6 a.m. and 10 p.m., however, some work may take place outside those hours as necessary.