"Type 5" trains are part of MAX Orange Line opening in Sept. 2015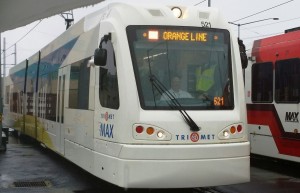 TriMet today previewed the first "Type 5" MAX light rail vehicle (LRV) at our rail facility in Gresham. TriMet is purchasing 18 Type 5 trains as part of the Portland-Milwaukie Light Rail Transit Project – or MAX Orange Line.
The next generation of MAX trains pulled into the Ruby Junction rail yard with media, and later riders, able to tour the new vehicle.
TriMet General Manager Neil McFarlane said riders will notice some improvements compared to the earlier generation of Type 4 trains they're modeled after.
"We made changes to these new trains that will make it more comfortable for our riders, including adding more seats, more capacity, more leg room and improved boarding for riders who use mobility devices. These changes were prompted by feedback from our riders who helped make these vehicles better to ride," said McFarlane.
Type 5 model
Type 4 model
Seats:
72 per vehicle
144 per 2-car train
68 per vehicle
136 per train
Rider capacity:
186 per vehicle
372 per 2-car train
172 per vehicle
344 per 2-car train
Learn more about the new Type 5!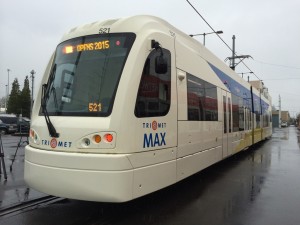 Train #521 arrived from Sacramento, CA in late September and the second Type 5 vehicle arrives this week. All trains are scheduled to arrive by April 2015. As these are the first vehicles in this new generation, both vehicles will go through an even more rigorous testing period. It includes a 4,000-mile "burn-in" testing period and safety certification before it can go into service. The other 16 vehicles will go through a 1,000-mile "burn-in" testing period and safety certification.
About the Portland-Milwaukie Light Rail Transit Project
The 7.3-mile project is the region's sixth MAX construction project and will improve transit in this corridor that extends from the terminus of the MAX Green and Yellow lines at Portland State University in Downtown Portland to South Waterfront, SE Portland, Milwaukie and North Clackamas County. About the project:
7.3 miles
10 stations
The first of its kind multi-modal bridge in the U.S. will carry light rail and streetcar trains, buses, bicyclists and pedestrians, but no private vehicles.
Opens Saturday, Sept. 12, 2015
Expands the MAX system to 60 miles and 97 stations
Project partners
The Federal Transit Administration, State of Oregon, Clackamas County, Metro, City of Milwaukie, Multnomah County, City of Oregon City, Oregon Department of Transportation, City of Portland, Portland Development Commission and TriMet.