TriMet's online trip planner and TriMet Tickets mobile app make planning your trip easy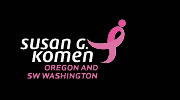 The annual Susan G. Komen Race for the Cure will be held in Portland City Center on Sunday, Sept. 21, and if you are taking TriMet to the event be sure to plan ahead. TriMet's
Online trip planner makes it easy to plan your trip. Click here to plan your route to the Race for the Cure.
During the event, two bus lines – Line 15-Belmont/NW 23rd and Line 17-Holgate/Broadway – will be detoured around the race route. Two other bus lines – Line 20-Burnside/Stark and Line 77-Broadway/Halsey – as well as MAX trains may be delayed for a few minutes to allow runners and walkers through.
Race for the Cure Rider tips
Keep in mind that buses and MAX will be running on Sunday schedules. Not all bus lines have Sunday service.
In the morning hours leading up to the event, MAX Blue, Red and Yellow lines have a 35-minute frequency or 35 minutes between trains.
TriMet will be adding extra service on the Green Line since regular Sunday service does not begin until 8 a.m. Two extra trains have been scheduled to depart the Clackamas Town Center MAX Station at 6 a.m. and 7 a.m. As these trains are being inserted into regular service, please note that they will not appear in the online trip planner.
If heading to the event from Clackamas, consider our Line 72-Killingsworth/82nd bus, which runs from Clackamas Town Center to the NE 82nd Ave MAX Station where you can connect with trains.
If traveling from east of Gateway Transit Center or west of Beaverton Transit Center, improve your service options by using the Park & Rides at Gateway or Sunset Transit Center, as multiple MAX and bus lines serve those stations and have shorter trips into Portland City Center. For Park & Ride information, visit trimet.org/parkandride.
Instead of a paper fare, purchase and use tickets on your smartphone anywhere, at anytime.The free TriMet Tickets mobile app lets you easily buy and store your fare on your smartphone. You can buy and use tickets for multiple people on just one phone. Check out our FAQ at trimet.org/mobiletickets for instructions and other information.
Buy a day pass – it's the same price as two 2-hour tickets. Most of the Race for the Cure events will take longer than two hours.
TriMet customer service staff will be at the registration & t-shirt pick-up event sponsored by OHSU at the Crowne Plaza Hotel on Friday and Saturday selling advance Day Passes for Sunday.