Frequent service extended on bus and MAX; other changes to reduce crowding, shorten wait times and improve reliability
In a few short days, riders will see more service, less crowding, shorter wait times and improved reliability on the TriMet system, with a total of 30 bus lines and all MAX lines seeing improvements throughout the region.
On September 2, 2014, TriMet's 12 busiest bus lines as well as our Green, Red and Yellow MAX lines will have 15-minute or better service extended into evening hours on weekdays. TriMet's frequent service network, which is made up of our busiest bus lines and all MAX lines, carries roughly 58 percent of TriMet ridership.
With the improvements, riders will also see less crowding and shorter wait times on eight other bus lines. Additionally, bus and MAX schedules will be adjusted to better match traffic conditions on nine bus lines and the MAX Blue line, increasing on-time reliability.
TriMet is investing $5.5 million for this added bus and MAX service. That's on top of the $5.2 million in service enhancements made during the last 12 months. We will also be adding another $1.6 million in service improvements this coming spring.
Frequent Service extended into the evening on weekdays
Effective Sunday, August 31, 2014, the following lines will have additional trips and schedule adjustments to extend 15-minute or better weekday frequency into the weekday evening hours. Some schedule times will change by five to as much as 16 minutes.
Less crowding and shorter wait times
Effective Sunday, August 31, the following 12 bus lines will have additional trips added on weekdays and/or weekends to lessen crowding and improve wait times. Some lines have significant schedule adjustments ranging from 11 to 16 minutes.
Improved schedules
The following 10 bus lines and MAX Blue Line will see changes to the written schedules throughout the service day to better match traffic conditions, increasing on-time reliability. Specifically, bus lines 20-Burnside/Stark and 87-Airport Way/181st will have significant schedules changes.
Improved stop locations
Bus lines 35-Macadam/Greeley and 36-South Shore will have new stop locations for improved connections to other bus lines. Please note for both lines, the stop at SW Naito Parkway & Arthur (Stop ID 1923) will close.
Improving the ride
We know our riders want more and better service. That's why, over the next few years, we're working to grow our network of buses and trains—while improving the overall rider experience. We're gradually bringing service frequency back up to pre-recession levels, which means less waiting and less crowding on board buses and trains. And, we're improving our trip tools so you have access to service information when and where you need it, along with convenient ways to pay your fare.
New transit projects, such as the Portland-Milwaukie MAX Line opening in 2015, will provide commuters a much-needed alternative to sitting in traffic. Meanwhile, ongoing upgrades to vehicles, stations and tracks are helping to improve reliability and make your ride more comfortable.
Frequent Service Network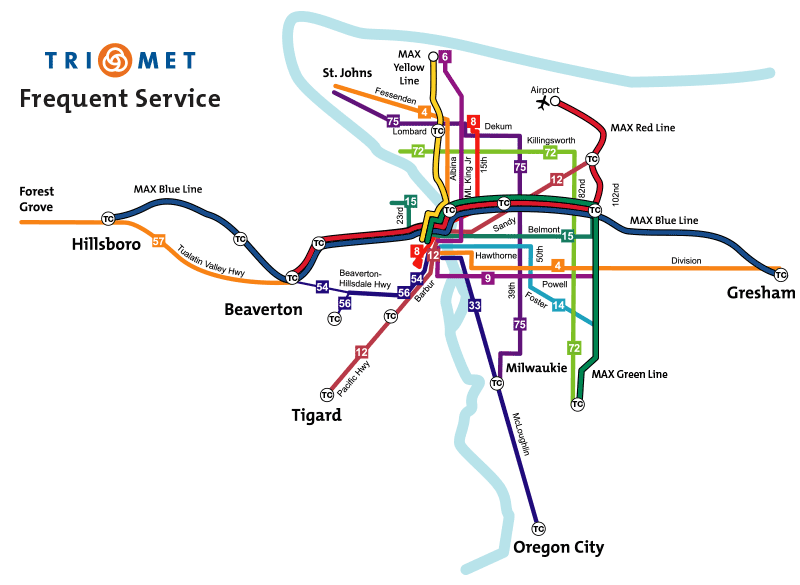 Our Frequent Service bus network, made up of 12 of our highest ridership lines, carries 58 percent of our bus riders. Prior to the Great Recession, buses on these lines ran every 15 minutes or better throughout most hours of the day. Due to budget shortfalls service was scaled back, reducing frequency on these and other lines.
TriMet is now dedicating resources to fully restore frequent service and in some cases improve service on our busiest lines. Looking forward, the agency plans on investing additionalfunds to improve bus and MAX frequency, reliability and help ease overcrowding.