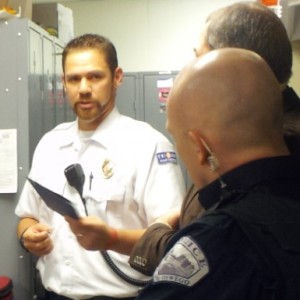 When TriMet Supervisor Rich Vasquez saw a Transit Police officer begin struggling with a man at the Beaverton Transit Center, he didn't hesitate to help. Now his actions have earned him a Citizen Recognition Award and highlight the partnership between our supervisors and Transit Police officers in providing safety and security on the TriMet system.
"… it could have escalated into a lethal force situation."
On an evening last September at the Beaverton Transit Center, Transit Police Officer Earl (Al) Hall was attempting to remove a man who appeared to be high on drugs. The man began resisting arrest and when he reached toward his waistband, Hall deployed his Taser, to little effect. When Hall saw that the man was attempting to pull a knife from his waistband, he immediately fought him to the ground. Backup was on the way but the officer needed help right then and there, and that's where Supervisor Vasquez came in.
"Mr. Vasquez ran over and offered assistance," said Officer Hall in an email to TriMet managers commending Vasquez' actions. "He did not crazily tackle me or the subject, nor did he standby while critical seconds passed to decide what to do. Mr. Vasquez ran over and asked if I needed assistance."
"I went over and asked the officer if I could help," Rich recalls. "And he said I could. He told me exactly what to do." Hall instructed Rich to put his body weight on a certain spot on the man's torso, and to handle his non-knife arm in a certain way. With Rich's help, Hall was to get the man to release the knife.
"If Rich hadn't been there, it could have escalated into a lethal force situation," said Hall.
Vasquez, who has since been promoted to lead supervisor, received a TriMet Way Award for his actions that night. On Saturday, January 25, the Lake Oswego Police Benevolent Association will honor him as well with a Citizen Recognition Award. Hall is an officer with the Lake Oswego Police Department and is currently on assignment with the Transit Police Division.
A partnership in security
It's not only Transit Police officers and contracted security staff who provide a visible security presence on the system. "I believe Rich's actions bring light to the dedication of our supervisors and front line employees who work day in and day out to keep our system safe," said TriMet Manager of Field Operators Jay Jackson.
TriMet has some 75 supervisors and fare inspectors who deploy throughout the TriMet system. You may see them in their white shirts walking platforms and patrolling transit centers, riding on trains, driving bus routes in marked TriMet vehicles and stationed around the TriMet District so they can quickly be where needed when called upon.
Our supervisors respond to incidents, enforce all aspects of TriMet Code including fare requirements, keep the trains and buses moving when issues arise and help riders, fellow employees, police officers and other security personnel any way they can.
"Our teams – TriMet's field personnel, the officers of the Transit Police Division and our contracted security staff – work together to provide security on the TriMet system," said TriMet Executive Director of Safety and Security Harry Saporta. "It truly is a partnership and our supervisors deserve recognition for the role they play."
We are grateful to see others recognize the actions of our supervisors and appreciate the Lake Oswego Police Benevolent Association for honoring Supervisor Vasquez.
As Officer Hall wrote in his commendation of Vasquez, "His actions are greatly appreciated and an excellent representation of TriMet."