Public can comment on the short list through March 1
After reviewing nearly 9,500 submissions, the Portland-Milwaukie Light Rail Bridge Naming Committee today released its short list of four finalists. The committee reviewed and considered all names for the Transit Bridge including those of noted community leaders who have contributed to our region, state and beyond; names in Native American languages; names that speak to the Northwest environment; names that reference the purpose of the bridge and some that were just a bit whimsical.
The committee includes a group of diverse regional leaders who reflect a shared sense of place, and is chaired by Chet Orloff, Director Emeritus of the Oregon Historical Society and a 22-year member of the Oregon Geographic Names Board.
"We selected these names because they reflect aspects of this region's unique history, values and communicate the importance of community connections, both through transit and a shared history, now and for generations to come," said Orloff.
Background: Criteria for selecting a name
The committee put names through a filter of criteria to ensure the name would reflect regional importance, including:
Origin of name
Meaning of proposed name
Is it inspirational? If so, why?
Does it reflect how bridge connects people? If so, how?
Historical significance (if any)
Biographical info (if commemorative)
Any special cultural meaning?
What will it mean 100 years from now?
Spelling
Pronunciation
Sound/ring/flow
Regional perspective
This marks the first time in the region's history that the public has had the opportunity to suggest names for a bridge over the Willamette River in the Portland metro area. When the Transit Bridge and the entire Portland-Milwaukie Light Rail Transit Project opens on Sept. 12, 2015, it will improve transit service in this corridor, and the unique bridge will only carry transit, bicyclists and pedestrians, but no private vehicles.
The four bridge name finalists: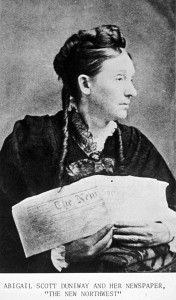 Abigail Scott Duniway Transit Bridge
Oregon Historical Society, #ba017990
Known as the "Mother of Equal Suffrage," and "the pioneer woman suffragist of the great Northwest," Abigail Scott Duniway dedicated herself to social justice, education and family welfare for more than 40 years. She was a tireless lecturer who led the fight to gain voting rights for women in Oregon, and she wrote and edited her own newspaper, The New Northwest. Her signature line—"Yours for Liberty"—is a reminder of her lifelong commitment to equal rights.
A sampling of public submission rationales:
"Abigail Scott Duniway, a worthy woman for a worthy bridge."
"She was an Oregonian who fought an uphill battle over many years to bring true citizenship to half the people of the state."
"Her commitment to education and women's rights remains inspirational nearly 100 years after her death."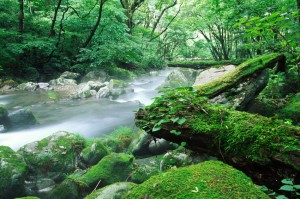 Cascadia Crossing Transit Bridge
"Cascadia" takes its name from the Cascade Range and its snow capped mountains, which provide a scenic backdrop along much of the Willamette River Valley. The word describes a cross-border region of the greater Northwest. Various groups define the boundaries differently, with some drawn along existing political, state and provincial lines, and others drawn along larger ecological, cultural and economic boundaries.
The Cascadia region is generally considered to stretch from British Columbia to Northern California.
A sampling of public submission rationales:
"Cascadia represents the beautiful Pacific Northwest, our beautiful land and precious waters, our commitment to the environment, our willingness to march to a different drummer."
"Harmonizing the local region as one united group"
"Cascadia is our bioregion. A car-free Cascadia is all the better."
"Tillicum" is a word in Chinook jargon that means people, tribe and relatives. With the passage of time, it has also come to mean friendly people and friends. Chinookans are indigenous peoples and tribes who have lived near the Columbia and Willamette rivers for 14,000 years. However, Chinook jargon is not the language of any one tribe. The jargon was developed to help native peoples communicate across distinct languages and dialects, and was later used to communicate with explorers, fur traders and settlers.
A sampling of public submission rationales:
"Tillicum Bridge = Bridge of the People (in the native language).To honor those who loved this place first and those that still do."
"To honor Native Americans of the Pacific Northwest who used this word to name a friend, or refer to the common people."
"This is a people's bridge (not a car bridge) in more ways than one. This name also ties us to the past and present through this Northwest Native American word."  
Wy'east Transit Bridge  
"Wy'east" is the original name of Mt. Hood. A Native American story tells of two sons of the Great Spirit Sahale who fell in love with the maiden Loowit. She couldn't decide who to choose, and the two braves, Wy'east and Klickitat, burned villages and forests as they battled over her. Sahale became enraged and killed all three. Realizing what he had done, Sahale erected three mountains to mark where each fell: beautiful Mt. St. Helens for Loowit, somber Mt. Adams for Klickitat, and proud and erect Mt. Hood for Wy'east.
A sampling of public submission rationales:
"Wy'east is the Multnomah Indian name for Mt. Hood. Also, the bridge will connect West to east, and the letters in the name suggest this bridging of our landscape."
"Wy'east is the Multnomah Indian name for Mt. Hood. It honors both the history of Northwestern Oregon as well as the mountain. It's also a beautiful name for a beautiful bridge."
"Wy'east is what Native Americans called Mt. Hood and the bridge looks like two mountains."   
Let us know your thoughts!
Please tell us what you think. Give us your comments at trimet.org/namethebridge or mail them to 1800 SW 1st Avenue, Suite 300, Portland, OR 97201. The deadline for input is 5 p.m. March 1, 2014.
About the Portland-Milwaukie Light Rail Transit Bridge
The bridge, the first one built over the Willamette River in Portland in more than 40 years, will be the first cable-stayed bridge for the region, extending 1,720 feet (.326 miles) over the river. The bridge alignment is SW Porter Street on the west side and SE Sherman Street on the east side. This unique bridge will carry transit, bicyclists and pedestrians but no private vehicles. Emergency vehicles will be able to access the bridge if necessary.  
About the Portland-Milwaukie Light Rail Transit Project
The 7.3-mile project is the region's sixth MAX construction project to be built and extends from the terminus of the MAX Green and Yellow lines at Portland State University in Downtown Portland to South Waterfront, SE Portland, Milwaukie and North Clackamas County. About the project:
7.3 miles
10 stations
The first of its kind multi-modal transit bridge will carry light rail, buses, bikes, pedestrians and a future Portland Streetcar extension, but no private vehicles.
Opens Saturday, Sept. 12, 2015
Expands the MAX system to 60 miles and 97 stations
Project partners
The Federal Transit Administration, State of Oregon, Clackamas County, Metro, City of Milwaukie, Multnomah County, City of Oregon City, Oregon Department of Transportation, City of Portland, Portland Development Commission and TriMet.