"Green" treatment of vegetated trackway among the first in the US and will reduce stormwater runoff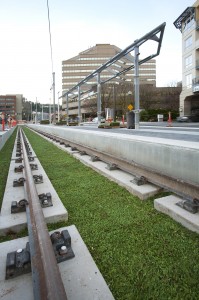 The Portland-Milwaukie Light Rail Transit Project is taking sustainable transit further with a pilot installation of eco-track on SW Lincoln Street downtown. This vegetated trackway will provide a colorful carpet of low-growing plants along 200 feet of light rail line, on either side of the Lincoln St/SW 3rd Ave MAX Station platforms.
Although "green" or "grass" trackways exist in Europe, it's a rare application in the United States. The eco-track provides a vegetated trackway area pervious to stormwater, thus reducing runoff. The eco-track is comprised of 1" thick mats with various sedum species. Installation between the rails and within the trackway took place over the weekend.
Check out the time lapse video of the installation produced by prime construction contractor Stacy and Witbeck, Inc.

About the vegetation
Sedums are a hardy, low maintenance vegetation and commonly used on eco-roofs. The sedum planting will be irrigated with a drip watering system for establishment then irrigated on an as-needed basis. The sedum species and varieties were selected based
Sedum album 'Coral Carpet'
Sedum album 'Murale'
Sedum album 'Green Ice'
Sedum album 'Orange Ice'
Sedum album 'Chloroticum'
Sedum spurium "Red Carpet'
Sedum stefco
In addition to the eco-track installation, the light rail project has replaced removed trees and is incorporating sidewalk stormwater planters on SW Lincoln Street.
About the Portland-Milwaukie Light Rail Transit Project
The 7.3-mile project is the region's sixth MAX construction project to be built and extends from the terminus of the MAX Green and Yellow lines at Portland State University in Downtown Portland to South Waterfront, SE Portland, Milwaukie and North Clackamas County. About the project:
7.3 miles
10 stations
The first of its kind multi-modal bridge that will carry light rail, buses, bikes, pedestrians and a future Portland Streetcar extension, but no private vehicles.
Opens Saturday, Sept. 12, 2015
Expands the MAX system to 60 miles and 97 stations
Project partners
The Federal Transit Administration, State of Oregon, Clackamas County, Metro, City of Milwaukie, Multnomah County, City of Oregon City, Oregon Department of Transportation, City of Portland, Portland Development Commission and TriMet.