Three recent ads by the Amalgamated Transit Union (ATU) have spread false claims about TriMet safety, budget priorities, fares and pensions. The focus of the ads is to divert attention away from the need for contract reform and the need to realign benefits with the market. Following are claims and truths of key points in the ads.
ATU Leadership's Claim: "TriMet: Blind Spot on Bus Safety"
Claim: "In 2004, a TriMet bus that was turning left struck and killed a man in a crosswalk."
Fact: True; in 2004 an operator struck a pedestrian in a crosswalk in the Rose Quarter and he died. An outside independent review of the collision concluded it was preventable. The operator was terminated for failing to follow Standard Operating Procedures and scan the intersection for pedestrians. The operator's termination was challenged by the ATU, but it was upheld by an arbitrator.
Claim: : "…this particular model of bus was inherently dangerous to pedestrians."
Fact: Every vehicle on the road, not just a bus, has blind spots or visual barriers. Our operators are trained to "rock and roll" and move to see around any temporary visual barriers, which is the recognized technique in the transit industry to address such barriers. While the ATU claims the bus model is "dangerous", the arbitration thoroughly disputed this claim. The operator's actions, not the bus, caused the collision.
Claim: TriMet is buying 365 new buses.
Fact:We have accelerated our bus purchases to move from having one of the oldest fleets in the country to matching the industry standard of eight years by 2016, three years ahead of our original schedule. To date, we've purchased 125 buses (2012 and 2013), and will buy approximately 60 buses annually over the next three years, for a total of 305 new buses. We then plan to buy 40 buses each year to maintain the fleet age.
Claim: The new buses have a windshield pillar "that can hide as many as six adults, two children and a baby in a stroller – all at the same time!"
Fact: The picture taken by the ATU is closer to the window than an operator would be and does not accurately represent an operator's true view through the windshield. Every driver, car or bus, has to move their head and body to see clearly around the visual barriers in their vehicles to ensure safe operations.
We are launching a peer review of all buses – old and new – to assess our methods to mitigate visual barriers on buses.
Claim: Each new bus is "getting an $11,000 'nose job'."
Fact: It's not about cosmetics. The improved front face of the new buses provides for greater visibility and safety, and they are more aerodynamic. More than 1,000 new Gillig buses are in service around the country with the extended front end that includes additional window space. This bus model provides the highest visibility of all Gillig vehicles and improves the sight line for operators. Our 125 new buses are coming with this extended front end. No other buses in our fleet are being updated with this safety feature.
ATU Leadership's Claim: "TriMet Fares: Questionable Decisions & Explanations"
Claim: TriMet's single flat rate fare is "higher than fares in all major west coast cities" and "especially for the disabled and elderly"
Fact: TriMet's flat fare rate is on par with peer agencies on the west coast. Out of the five cities the ATU cited, only one includes a transfer in their base ticket price. All others are one ride only or apply additional fees for transfers. When you take into account the transfer time included in TriMet fares, the total costs averages out.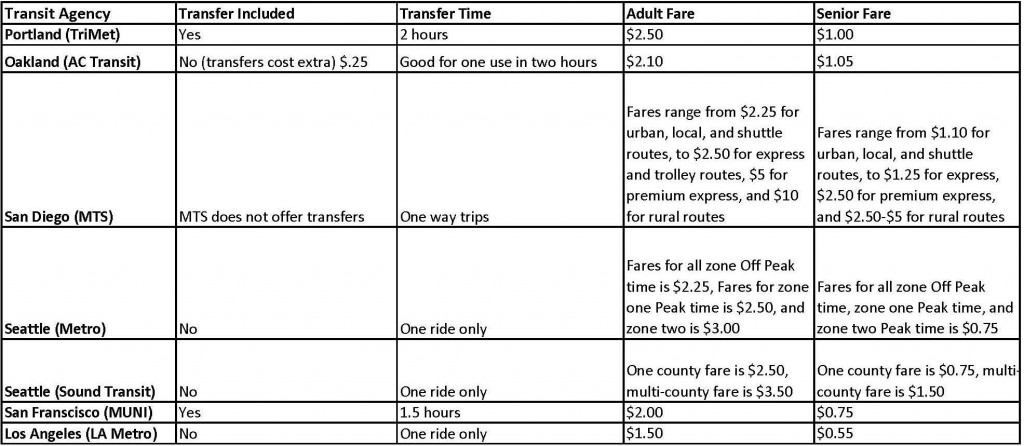 Claim: "What did these fare changes yield? A loss of nearly four thousand passenger rides in the last year."
Fact: We actually lost about 3 million rides last year, primarily on MAX due to the elimination of the Free Rail Zone.
Claim: ATU members are "paying more for health insurance than TriMet management"
Fact: True. As allowed by the collective bargaining law, as of January 1, active union employees and retirees temporarily began paying more – the increased cost of health care over 2011 rates – until a new contract is in place. That means, on average, union members are paying 9.25 percent for their preferred provider plan or 6.25 percent for their Kaiser plan while the contract is unresolved. The union plan is a richer benefit than the non-union plan. Non-union employees pay 6 percent of the premiums, which is what TriMet has offered to the union for the upcoming contract yet to be negotiated.
Claim: "In 2011, TriMet managers claimed the agency had dire financial problems. At the same time, they also secretly decided to purchase a new "smart card" fare system that will be more expensive to operate… is it sensible for a financially-strapped agency to take on a $20+ million debt for a new technology?"
Fact: Yes, it is. Electronic fare collection will deliver benefits to customers, taxpayers and employees that the current old-fashioned analog collection system cannot deliver. One of those benefits includes additional revenues from reduced fare loss and lower cost to collect fares that will offset any additional operating and capital costs of the new system over its useful life.
All information and actions related to implementing an electronic fare system have been open to the public and media. The electronic fare system will likely provide a discount to daily riders who can't afford to buy a monthly pass and protection if their fare smart card is lost. For TriMet, we will collect more fares and reduce fare evasion. Additionally, most major transit systems have some form of electronic fares.
Claim: "A 2011 agency internal report stated that, in order to purchase and use the new fare system, TriMet would have to eliminate Fareless Square, multi-zone pricing and raise fares."
Fact:TriMet developed a white paper on migrating to an electronic fare system that was also shared with the public. TriMet's former zoned fare system was complex and difficult for both riders and operators to understand, with more than 35 different fare instruments. TriMet has been advised by many transit agencies that have adopted electronic fares to reduce and simplify the fare structure before going digital and then build in complexity later, if needed – advice that is reflected in the staff white paper on electronic fares.
Electronic fare collection will also deliver benefits that will likely include providing loss protection, discounts for riders who typically pay their fare one day at a time and the ability for customers and institutions to conveniently make online purchases or make purchases of any size at retail outlets. It will also likely reduce revenue loss, and be more convenient for operators by electronically managing transfers.
Claim: "…drastic fare changes, fare increases, threats of future service cuts and reduced worker benefits are going to pay for TriMet's latest technology purchase."
Fact: TriMet collects about $110 million in fares each year, which is 21 percent of operating revenues. Making the fare system easier to use and more cost efficient frees up more revenue to put to service.
ATU Leadership's Claim: "TriMet Pensions: A Question of Fairness"
Claim: "…we took less in wages partly so we could supplement our social security benefits."
Fact: ATU's guaranteed annual wage increases of 3 percent (minimum) to 5 percent (maximum) means their wage increases have far outpaced the cost of living since 2000. Cost to TriMet is $19 million a year over true Consumer Price Index (CPI) adjusted increases.
Claim: Average monthly Pension Benefit: Union – $1,581, Non-union/non-manager – $1,956 , Managers – $3,786, TriMet former General Manager – $16,000.
Fact: The average monthly union pension is $1,600.86. The average non-union/non-executive monthly pension is $1,222.86. The average non-union monthly pension including executives is $1,496.07. The average monthly executive pension is $6,289.69.
Claim: It takes non-union managers 3-5 years to qualify for pension benefits and the former general manager 7 years.
Fact: TriMet pension plans are closed to all new employees.  Previously eligible union employees qualify after 10 years and non-union employees qualified after 5 years.  The union plan closed in 2012 and the non-union plan closed in 2003.  Going forward all new employees are eligible for a Defined Contribution plan that vests after 3 years.
Claim: Minimum age for eligibility: 58 for union employees; 55 for non-union employees
Fact: Union and non-union employees are eligible for pension at the same early retirement age of 55.
Claim: Paid Life Insurance: union employee – $25,000; non-union – $150,000 to $500,000+; former and current general managers – $800,000
Fact: This claim comes in a chart entitled "Pension Class Comparison" which may confuse the reader about whether this is retiree or active employee life insurance, or both. Retiree life insurance for union and non-union retirees (including executives) is $10,000. Active employee life insurance for union part-time operators is $18,750, for all other union employees it is $25,000 and the coverage for all non-union employees is one times annual salary not to exceed $150,000. In addition, some executives and the general manager have group supplemental life insurance coverage of $500,000.
Claim "…top management receives compensation far in excess of that received by most of their employees."
Fact: The average union pay and benefits at TriMet is $100,411 compared to the non-union average pay and benefits of $103,803.
Our mission
TriMet provides nearly 100 million rides a year on its buses and trains. It's a critical service to the region, connecting people to jobs, schools, community services and other life activities. And the region is demanding more service to meet job growth. We're focused on reforming all areas of our business to be market-based, reducing our costs and provide more revenues for additional service on the street.