TriMet invites the public to meet the artist and experience the mural that captures spirit of a region on the move
Talk about transformative. When artist J. Shea walked into the Orenco Station Bike & Ride in June, a blank canvas greeted him. Three weeks later, he had transformed the space into a wraparound mural, conveying themes of transit, freedom and adventure. Shea's work brings warmth and a sense of playfulness to the bike and ride facility in Hillsboro.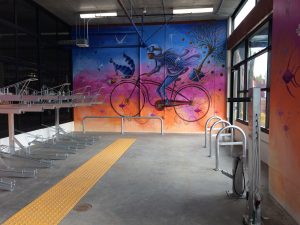 The Orenco Bike & Ride sits on NW 231st Avenue, just south of Cornell Road. It offers 50 secure parking spaces, a bicycle repair stand, e-bike charging capability, an air pump and a place for oversized cargo bikes. Its floor-to-ceiling windows allow everyone to enjoy the artwork, whether they're storing a bike or simply passing by.
"My hope is that this mural catches the public's eye with its color and movement," J. Shea said of his work. "We love seeing art infused in people's daily life, said Valerie Otani, Hillsboro's Public Art Supervisor, "whether it is catching a glimpse of color at the intersection or getting on your bike and feeling your cares fall away."
Bike parking is an important focus for TriMet as we encourage people to combine bike trips with transit trips. Providing a variety of parking options is a necessary component and attractive alternative to bringing a bike onboard crowded trains and buses. The Orenco Bike & Ride utilizes BikeLink technology, a card-based, on-demand secure bike parking system. Users purchase an access card for $20 then pay just pennies per day to park.
Please join us for a celebration event at the Orenco MAX Bike & Ride on Wednesday, August 16, from 4:30 to 6:30 p.m. Come by for a close look at the mural, meet artist J. Shea and some of the mural selection panel members, and learn more about our Bike & Ride program. We'll also be handing out a limited number of BikeLink keycards!
The Orenco Bike & Ride is located at the Orenco MAX Station, facing NW 231st Avenue, accessible by MAX Blue Line, Line 47-Baseline/Evergreen and Line 48-Cornell. Additional Bike & Ride facilities are located at the Beaverton Transit Center, Gresham Central Transit Center, SE Park Ave MAX Station, SE Tacoma /Johnson Creek MAX Station and the Sunset Transit Center.