Testing of electric buses to take place in Beaverton area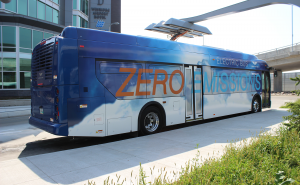 TriMet is in the early stages of plan development for a possible transition to all-electric propulsion for our bus fleet, but first we need to kick the tires, so to speak, of the newest generation of electric buses. Thanks to a $3.4 million federal grant, TriMet will be able to do just that with the purchase of five battery electric buses, as well as the supporting charging hardware. The grant comes from the Federal Transit Administration (FTA) Low and No Emission Vehicle Deployment program. TriMet is partnering with Portland General Electric (PGE) on the project to purchase, own and maintain the charging infrastructure. We originally planned to purchase four of the buses but with PGE's support we are able to add a fifth bus.
The new buses being purchased have battery packs and electric motors instead of fuel tanks and combustion engines. These buses will have the fuel efficiency equivalent of 24 miles per gallon, reducing fueling cost by as much as 80% over regular diesel or hybrid buses. In addition to this the new battery electric buses, just like our current fleet of hybrid buses and select MAX trains, will have regenerative braking. This means when the brakes are applied, kinetic energy is captured and can be used immediately or stored in the battery for later use.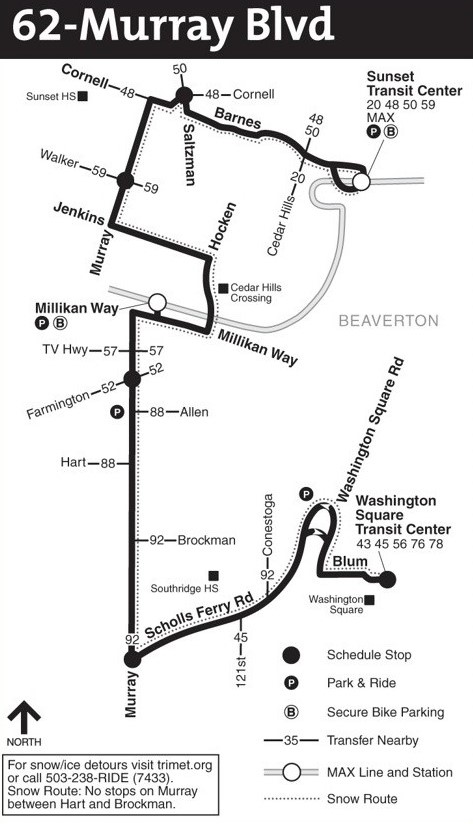 Once they arrive, the five 40' New Flyer Xcelsior Battery Electric Buses will travel on bus route 62-Murray Blvd, which runs between Washington Square Transit Center and Sunset Transit Center, along Scholls Ferry Road, Murray, Millikan, Hocken, Jenkins, Cornell and Barnes. The route will cover 13 miles, with service from 5 a.m. to 11 p.m. seven days a week.
While this is not TriMet's first experience with electric buses – we put two diesel-electric hybrids on the road back in 2002 and currently operate eight hybrids put into service in 2012 and 2015 – the technology has advanced greatly.
"We're strongly encouraged by the development of these battery electric vehicles and believe that an all-electric fleet is not just TriMet's future but the future for the entire transit industry," said TriMet General Manager Neil McFarlane. "However, before TriMet can go all-in on electric, this pilot project will give us valuable firsthand experience to understand how the technology performs in our operating environment including running in hilly terrain."
We also plan on evaluating the electric fleet's performance to better understand if any changes will be needed to schedules and operations to accommodate battery charging. As industry experience and utilization of battery electric buses increases, we expect that battery electric bus offerings will strengthen and diversify, performance and reliability will improve, and costs will continue to decline.
Building an all-electric future
In addition to piloting these electric buses, TriMet has applied to form a federally funded consortium (through the Federal Transit Administration's ZERO program). The group is made up of electric utilities like PGE, bus manufacturers and transit agencies around the country including King County Metro in Seattle. The consortium will work to develop a reliable pathway for expanding battery electric fleet choices by encouraging the bus manufacturing industry to continue to advance bus, charger and battery technology, reliability and affordability. This also would enable transit agencies and utilities to better understand the requirements of converting large fleets of buses to electric propulsion, which can create high levels of power demand in concentrated locations.
We all benefit
The benefits of electric buses to TriMet and the community include:
Cleaner air – These buses eliminate nitrogen oxides and diesel particulate matter, improving air quality in the communities that they serve.
Quieter rides, especially in neighborhoods – The new electric buses were the quietest transit buses ever tested with the FTA's standardized test protocol.
Reduced fuel costs.
A simpler preventive maintenance schedule.
Reduced maintenance costs (for example, the buses will require zero oil changes).
"The Portland metropolitan area's population is growing quickly, and we're excited about this next step in our transportation efforts, which will help TriMet do its part to reduce emissions as the population, and in turn the number of vehicles on the road, continues to increase," said McFarlane.
Timeline
Here's what the projected road ahead looks like:
Bus Purchase & Manufacture (August '17 – June '18)
Charging Hardware Purchase & Installation: (Sept '17 – June '18)
Testing and Training (July '18 – Sept '18)
Grand Opening! – Fall 2018