Change in reporting processes aligns with Portland Police Bureau, does not allow for direct comparison with previous TriMet reported crime statistics
2016 statistics show most offenses against customers still involve property; offenses against operators continue to pose challenge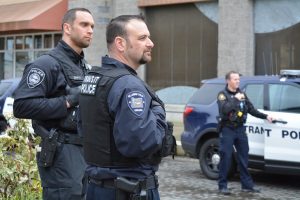 TriMet has adopted the National Incident-Based Reporting System (NIBRS) to track and calculate reported crime on the transit system. Under the new system more types of reported offenses are captured and all offenses associated with an incident are reported. The previous reporting system, the Uniform Crime Reporting (UCR) Program's Summary Reporting System (SRS), used a hierarchy to report only the most serious offense within an incident.
NIBRS provides a more comprehensive view of reported crime; however, in counting multiple offenses instead of the highest offense within a single incident, it will result in higher reported crime statistics. Last year, the FBI announced a transition to NIBRS-only data collection by Jan. 1, 2021.TriMet's change to NIBRS aligns with the Portland Police Bureau, which moved to NIBRIS in 2015, but does not allow for direct comparison to TriMet reported statistics from years prior to 2016.
How reported crimes will be recorded
TriMet will release annually all reported crimes, whether proven to be valid, prosecuted or dropped for any reason including due to lack of evidence. These are considered Group A offenses under NIBRIS.
One offense is recorded per victim of each unique offense type that occurs within an incident. Portland Police Bureau offers this example: During an argument an offender threatens two people with a handgun. Threats with a weapon are considered aggravated assault. With NIBRS, two aggravated assault offenses would be counted for the incident, one for each victim. Previously with SRS, this same incident would have been counted on as one aggravated assault.
More information on NIBRS, including definitions of offenses and explanation of how it differs from previous crime reporting formats, can be found on the City of Portland's website.
Reported crime remains low on TriMet system
The change to NIBRS does not allow a direct comparison between reported crime from 2015 to 2016, however TriMet's Security Division believes it remained flat year to year. That comes from day-to-day situational awareness and the level of coordination with law enforcement agencies last year and in 2015.
2016 reported crime statistics
Under NIBRS, Group A offenses are reported. Group A offenses fall into three categories:
Crimes Against Persons
Crimes Against Property
Crimes Against Society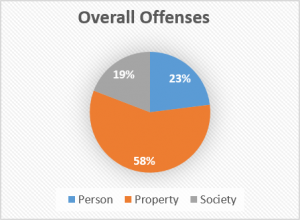 In 2016, there were 1,247 offenses reported in possible crimes on or related to the TriMet system amid the nearly 99 million rides provided. These are offenses, not incidents, and there may be multiple offenses involved in a single incident. Because of this, the 2016 statistics cannot be compared to previous year's reported crime statistics, which only counted the single most severe offense in each incident.
The offenses come from any reported crimes whether or not proven to have occurred and include crimes against riders, employees, other victims not intending to use the system, society and TriMet property, i.e. vandalism of buses/trains.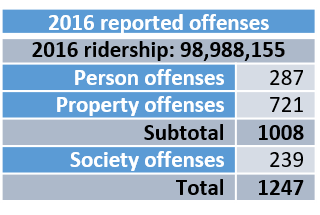 Some 19 percent of the overall offenses did not have an individual victim, rather they relate to crimes in which the primary victim was society as a whole. Offenses against society include such crimes as drug possession. Of the remaining 1008 offenses aimed at people and property, nearly 72 percent were property offenses.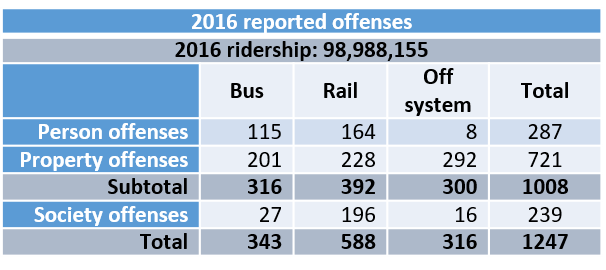 Breaking down the overall offense totals by mode, 47 percent were reported on the rail system, which includes both the MAX Light Rail and WES Commuter Rail systems. Some 28 percent of the reported offenses were on the bus system, with 25 percent off the system, which includes TriMet Park & Rides, restricted trackways and TriMet business and office locations.  On the rail system, a third of the reported offenses were society offenses in which there were no individual victims. As mentioned above, these are total offenses, not individual incidents and thus the 2016 statistics cannot be compared with prior years that used a different crime reporting system.
2016 reported crime against TriMet customers
Despite the May 26, 2017 attack on board a MAX train, reported offenses against customers, in particular violent crime, remain low on the transit system.

There were 733 person/property offenses against customers reported amid the nearly 99 million rides provided in 2016. Due to the change in reporting systems to NIBRS, which tracks offenses not incidents, a statistical comparison to 2015 or early years cannot be made.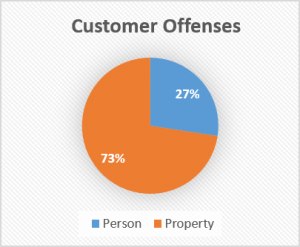 Of the 733 reported offenses, 532 or nearly 73 percent were property offenses.
There were 201 reported person offenses against customers, with most of those categorized as possible assaults. Under the Assault category, the majority of the offenses were identified as Simple Assault or Intimidation.
NIBRS Definitions
Aggravated Assault


An unlawful attack by one person on another involving a weapon and/or severe injury to the victim
Simple Assault


An unlawful attack by one person on another not involving a weapon or severe injury to the victim
Intimidation


To unlawfully place another person in reasonable fear of bodily harm through the use of threats or other conduct without the display of a weapon or actual physical attack. Includes stalking and threats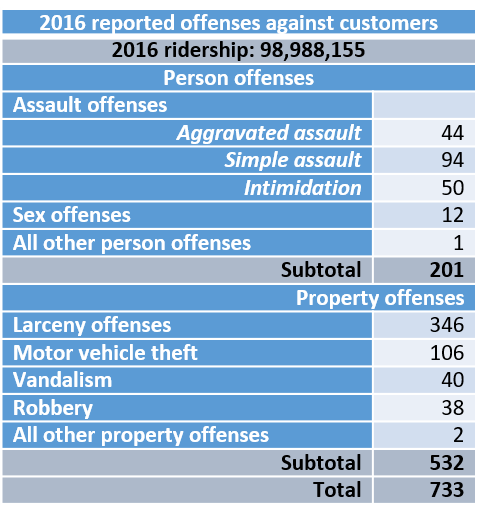 Larceny was the highest category of reported offenses against customers. Larceny includes theft from a person, whether they are aware of the crime, such as a purse-snatching, or unaware, such as taking a phone left on a seat. It also includes bicycle thefts and thefts from autos, whether locked or not, and vehicle parts or accessories such as tire rims. It does not include motor vehicle theft, which is tracked separately.
Taking a look at person/property offenses against customer by mode, among the nearly 59 million bus trips provided in 2016, 170 offenses were reported with more than 55 percent property offenses.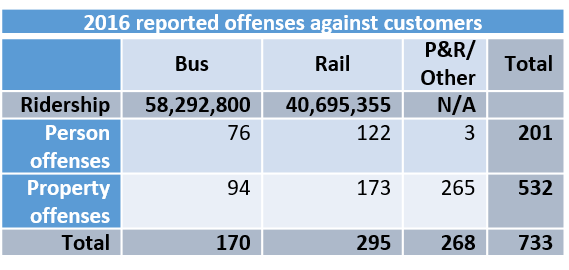 Among the nearly 40.7 million rides taken on the rail system (both MAX and WES), offenses against customers were reported, with nearly 59 percent property offenses. More than one offense may have been recorded in an incident.
On board the rail system, the area with the highest person/property offenses reported in possible crimes in 2016 was Gateway Transit Center with 36 offenses reported in 2016. Remember, the offenses do not equate to a single incident and there may be multiple offenses recorded in an incident. The next area with the largest reported person/property offenses per station was between Beaverton Transit Center and Washington Park that includes 3 stations and had 54 reported offenses. The third section with the largest number of incidents per station was between the Rose Quarter Transit Center and Lloyd Center MAX Station, which is located next to Holladay Park. There were 65 offenses reported over a four-station span.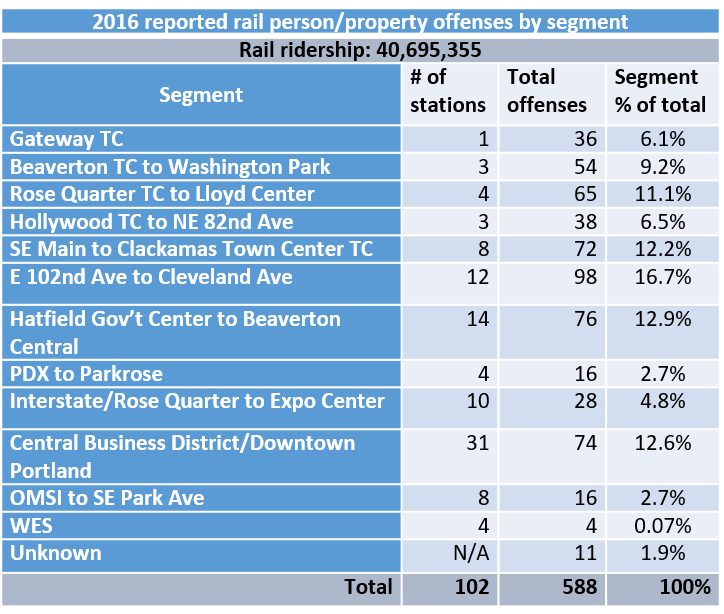 Offenses reported at TriMet park and rides totaled 264 with another 4 offenses recorded at other TriMet properties such as business and office locations. At park and rides, most offenses related to vehicles. Daily use statistics for park and rides enable us to determine the number of offenses per 1,000 autos. The Holgate Park & Ride has the most vehicle related crime per 1,000 vehicles and 43 offenses overall with 16 of those Theft of Vehicle.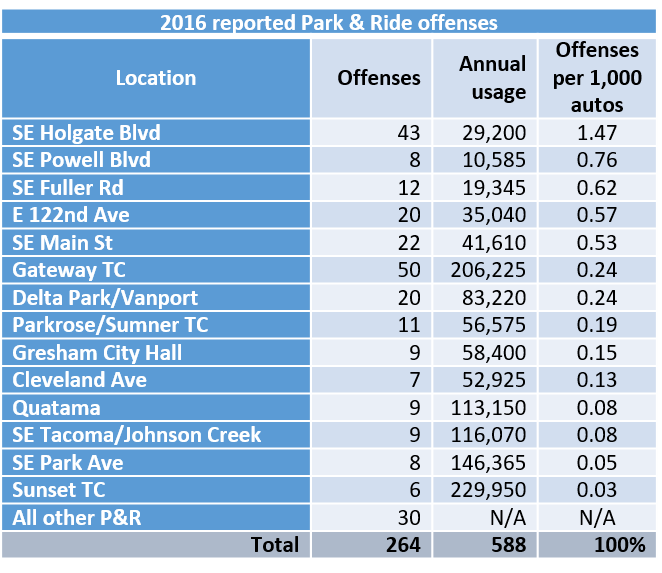 2016 reported crime statistics – TriMet employees
Reported crimes against employees including those against operators, continue to be a concern throughout the transit industry and a focus for TriMet. Note that crimes against TriMet employees includes all employees not just operators. That includes supervisors, fare enforcement staff and customer service staff, however, unlike past years the offenses against employees do not include those against Transit Police officers.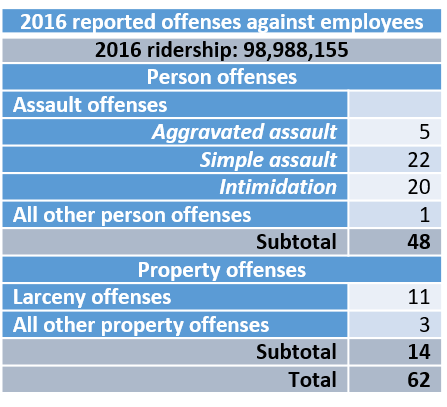 In 2016, most of the reported offenses in possible crimes against employees were person offenses. Of the 62 offenses reported 47 fell under the Assault category, with 22 Simple Assault offenses, 20 Intimidation offenses and 5 Aggravated Assault offenses. Under the new crime reporting system NIBRS, reported offenses are tracked, not incidents, so more than one offense may have been recorded in a single incident.
Taking a closer look at the reported offenses against TriMet employees, during the nearly 58.3 million bus trips provided in 2016, there were 41 reported offenses involving employees with most of those – 34 – person offenses.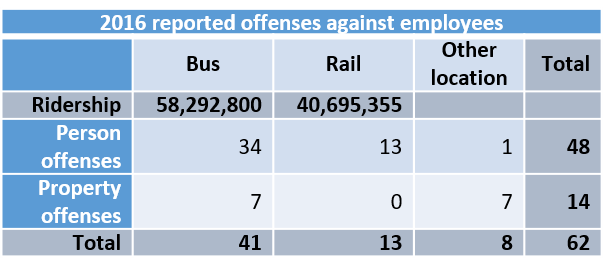 On the rail system, which includes both MAX Light Rail and WES Commuter Rail, during the nearly 40.7 million trips provided, 13 offenses – all person offenses – were reported against TriMet employees. Another 8 offenses occurred off the system.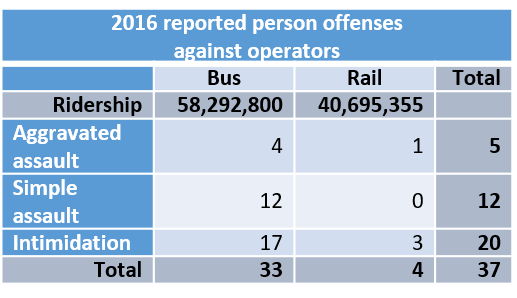 Of the reported person offenses against TriMet employees, 37 involved attacks against operators. Of those, 33 occurred on the bus system and 4 on the rail system. Note, one of the assaults on the rail system involved a bus operator.
Of the 33 reported operator offenses on the bus system, the most – 5 offenses – involved the Line 72. Four involved the Line 4.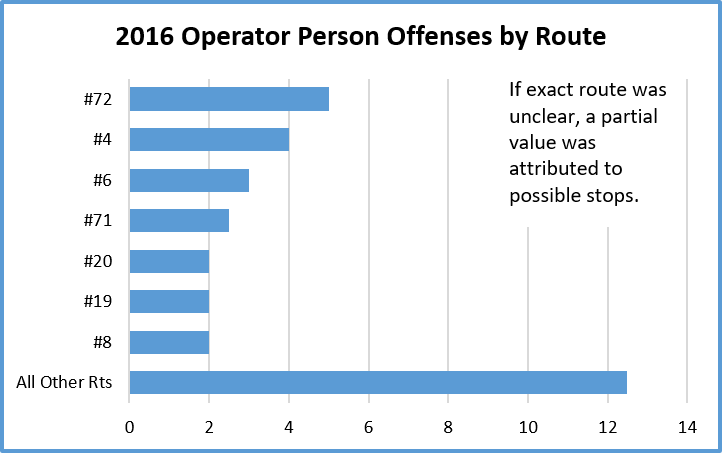 2016 reported crime statistics – Others
In 2016, 213 other reported person/property offenses were recorded in TriMet-related crimes. These involved victims who were not customers or employees, such as people obviously not intending to ride the system but were on TriMet property, victims of credit card theft elsewhere whose cards were then used to purchase TriMet tickets, law enforcement/privately contracted security guards, or TriMet vehicles/property. Of the 213 offenses, 38 were person offenses and 175 property offenses, with the vast majority of those, 85 percent or 135, vandalism offenses.
2016 reported crime statistics – Society offenses

Under NIBRS, crimes in which society is the primary victim rather than an individual person are tracked. In 2016, 239 offenses were recorded against society. Of those, 205 reported offenses involved drugs and 33 involved weapon law violations. These are offenses not incidents and multiple offenses may be reported in a single incident.
View the full 2016 TriMet Security Report
Security strategies continue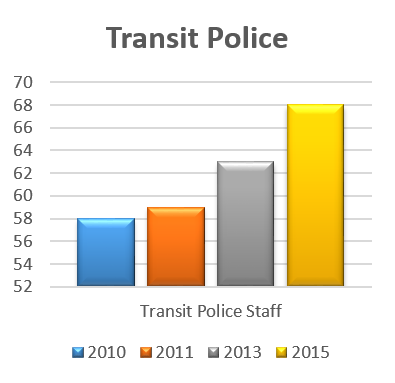 TriMet has been steadily growing the resources devoted to safety and security. Since 2010, we have added ten positions to the Transit Police Division and we continue to evaluate staffing as our service grows and crime in the communities we serve fluctuates.
Maximizing security presence
The May 26 attack that took place this year has led to a heightened awareness of security on the system. Efforts will continue to maximize security presence:
Transit Police officers, contracted security personnel and TriMet supervisors/code enforcement staff will continue to maximize time spent on the transit system.
Enhanced police patrols through overtime shifts and missions with partner police agencies will continue to be used at times.
The 20 G4S contracted security personnel added in the past two months will remain, likely through the end of the year, bringing the total number of contracted security personnel to 35.
TriMet's Security Division is moving forward on adding 15 security personnel that were added as part of the Fiscal Year 2018 budget proposed in March 2017.
The Transit Police Division expects to be fully staffed with all 68 positions filled by September.
Addressing society issues
TriMet has been meeting with law enforcement partners and local groups to work toward solutions on issues that affect the entire community including hate crimes, mental health crises and crime trends.
Smart use of resources
On the system, TriMet will use the 2016 reported offenses to inform strategic deployment of security resources and define tactics for crime reduction. We also will continue public education efforts to help inform TriMet users how to protect themselves and their belongings. And, the upgrade of video cameras, both on board vehicles and at stations, will continue.
Operator safety opportunities
Internally, TriMet will continue addressing opportunities to increase the safety of operators. Our Security Continuous Improvement Team will identify opportunities including expanding our employee assault prevention program, evaluating physical barriers for bus operators, adjusting standard operating procedures for operators as well as other staff that work most closely with them, and monitoring efforts of peer transit agencies.
"Safety for both TriMet riders and our employees remains paramount and it takes the combined effort of TriMet leadership, our law enforcement and community partners, employees and customers to keep our buses, trains, stations and transit centers a welcome place," said TriMet Executive Director of Safety and Security Harry Saporta. "While crime remains low on the TriMet system one incident can have a deep impact on our agency, our city and our riders, and so we remain resolute in our actions to protect the transit system."