Station renovation ends with brighter atmosphere, new amenities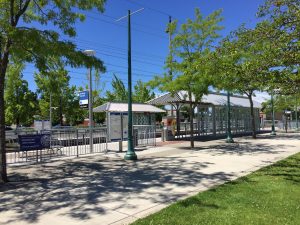 Crews have completed the renovations of the Gresham City Hall MAX Station, upgrading amenities at one of TriMet's oldest light rail stations. The station improvements include:
safety and security upgrades
shelter renovations
new TransitTracker monitors
improved lighting
new tactile warning strips on platform edges
Crews began station rehabilitation work in January as part of a series of improvements to MAX stations along the original Eastside Blue Line. Fourteen Blue Line stations between Hollywood/NE 42nd Ave Transit Center and Cleveland are being renovated under this multi-year program.
"These safety and security upgrades, along with amenity improvements, will give the Gresham City Hall MAX Station a much lighter and brighter aesthetic," said TriMet Guideways Manager Paige Schlupp, of TriMet's Capital Projects and Construction department. "We thank our riders for their patience during construction as we worked to improve their experience and our light rail system."
The next MAX Blue Line MAX station scheduled for upgrades is the E 122nd Ave Station. Crews will tentatively begin construction work in the fall.
Washington Park Station improvements
In addition to the Eastside Blue Line renovations, crews also are sprucing up our Washington Park Station. The improvements include adding colorful graphic wall coverings, upgrading lighting and new wall treatments in both elevator lobbies. Learn more.
Making Transit Better
TriMet is tackling more MAX improvements so riders can better rely on us to get them where they need to go. While MAX on-time performance — our measure of reliability — is increasing, there's more work to be done to keep trains moving and improve the customer experience. As part of TriMet's agency-wide efforts to make our transit service better, we are completing a number of upgrades and projects necessary for any light rail system.
We know our riders want more and better service. That's why we're working to grow our network of buses and trains, ensure the MAX system remains safe and efficient far into the future and improve the overall experience for our riders.