North America's deepest underground transit station to remain open during project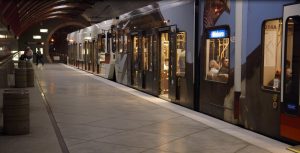 It's spring cleaning time as TriMet gives the Washington Park MAX station its most thorough overhaul since it opened in 1998. In addition to deep cleaning and adding colorful graphic wall coverings, the station will get better lighting and both elevator lobbies will be renovated One lobby and both platforms will remain open throughout the project.
New LED lighting throughout the station will be brighter, enhancing the aesthetics and requiring much less energy and maintenance. Graffiti-resistant walls that are easier to clean will replace the current walls that are in poor condition. The curved track way walls across from the platforms as well as the ceiling will be pressure washed to remove residue from almost two decades of light rail operation. Those walls will then be covered with a high-durability vinyl mural illustrating Washington Park.
Project schedule
Starting on Monday, April 24, workers will begin demolition and improvements in the station's east elevator lobby (Oregon Zoo side). In mid-June, the area will reopen and work wi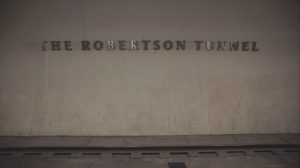 ll begin on the opposite lobby (World Forestry Center side), and continue through the middle of July. Work on the lobbies will take place on weekdays between 5:30 a.m. and 2:00 p.m. Cleaning of the curved walls across from the platforms will take place from May 19 until mid-June during overnight hours when MAX trains are not running.
No service impacts
MAX service will not be interrupted by this work, and we'll have signs directing riders around any small work zones to access elevators. The only surface disruption to park visitors will be storage and loading of construction equipment and materials in the vicinity of the Les AuCoin Plaza.
Making Transit Better
This work is part of TriMet's reinvestment in the MAX system including major trackway projects and ongoing rehabilitation of our oldest MAX stations. The Morrison-Yamhill MAX Improvements will require a three-week MAX disruption starting Sunday, April 30. Meanwhile, we are currently wrapping up a full renovation of the Gresham City Hall Station and expect to start an upgrade of the E 122nd Avenue station in the fall. Station upgrades include shelter renovations, new TransitTracker monitors, improved lighting, new tactile warning strips on the edge of the platforms and more.
TriMet thanks riders for their patience during these projects as we work to make their experience and our transit system better. Learn more about our Making Transit Better improvements.