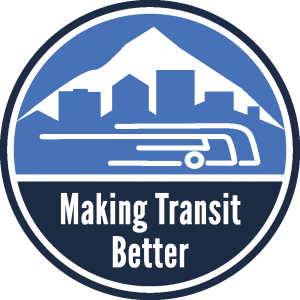 First in series of replacements early Sunday, March 26, requires service adjustments on MAX Blue, Green and Red lines
TriMet will soon kick off a switch renewal and replacement project essential to improving MAX on-time performance and the efficient operation of trains. The first in a series of switch machine upgrades to be completed this year will begin late-night Saturday, March 25 and will require service adjustments early Sunday morning, March 26.
MAX switch improvements
Switch machines move the special trackwork directing trains from one set of tracks to another set of tracks.
The machine being replaced later this month is just west of the Gateway Transit Center (TC) and moves trains from the track serving the center platform at Gateway TC to the single mainline westbound track. If the electrical switch malfunctions, the switch must be operated manually, which can delay trains.
Our maintenance crews have removed and replaced adjacent rail ties and will complete all the groundwork for the switch machine replacement without impacting service. However, the final phase in the machine replacement will require temporary changes to MAX Blue, Green and Red Line service.
Sunday, March 26 service adjustments
From start of service through 6 a.m.:
MAX trains will travel both directions on the eastbound tracks between Gateway TC and Hollywood/NE 42nd Ave TC.
Riders should pay attention to the direction trains are traveling and board only on the eastbound side of the platforms.
From 6 a.m. through about 10 a.m.:
MAX Blue and Green lines will be disrupted between Gateway TC and the NE 7th Ave Station. Riders will need to exit Blue or Green line trains at those stations and board the Red Line.
MAX Red Line will run its regular route; however trains will be running on the single eastbound track between Gateway TC and Hollywood TC.
Riders should plan an extra 15 to 30 minutes for trips through the area during this time and check trimet.org/alerts before they go.
This work is part of TriMet's ongoing effort to improve and upgrade our tracks, stations and signal systems to continue to provide our customers with safe and reliable service. We realize this will be an inconvenience to our riders; however this work is vital to improving the reliability of service. Our goal is to complete this work as quickly and efficiently as possible and we appreciate our riders' patience. Other switch machine replacements will be scheduled later this year. All work is weather-dependent.
Making Transit Better
We continue to reinvest in the MAX system, tackling more projects in 2017 to improve our service so riders can better rely on us to get them where they need to go. While MAX on-time performance — our measure of reliability — is improving, there's more work to be done to keep trains moving. As part of TriMet's agency-wide efforts to make our transit service better, we are completing a number of upgrades and projects necessary for any light rail system. In addition to the switch renewal and replacement project, this year crews will be upgrading tracks in Downtown Portland during the Morrison-Yamhill Improvements Project, Sunday, April 30 through Saturday, May 20. Thank you for your patience as we complete this important work.
We know our riders want more and better service. That's why we're working to grow our network of buses and trains, ensure the MAX system remains safe and efficient far into the future and improve the overall rider experience.