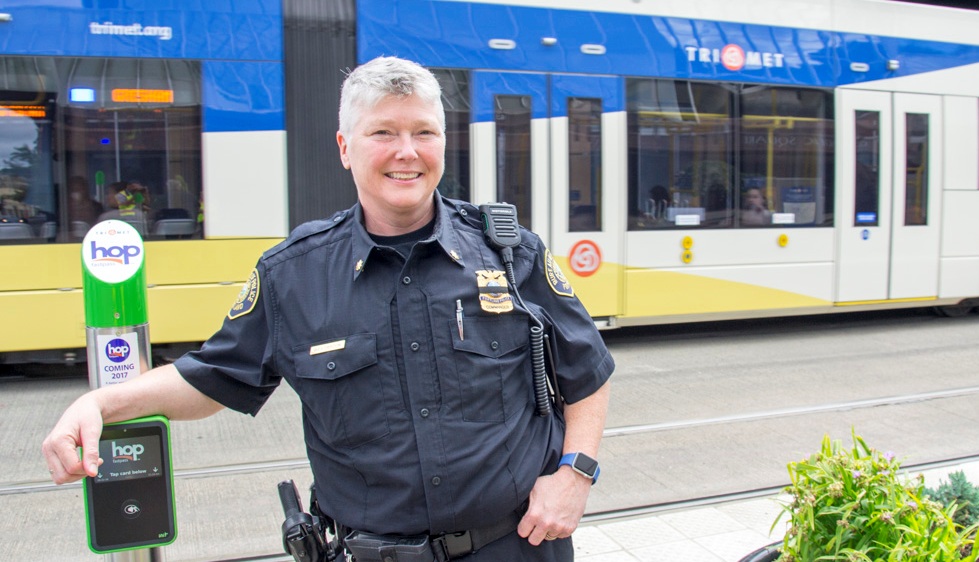 The new commander of Transit Police has had her eye on the transit unit – and TriMet – for a while, so when she got the call about her new assignment, she was thrilled.
"We are a culture that needs to move, to get to jobs, to get our groceries, to visit our friends, to go where we need to go," said Commander Sara Westbrook. "I am ready for the challenge of directing the security efforts for a mobile community and I'm excited to lead these quality police officers who keep TriMet riders and employees safe."
Taking the helm at Transit Police
Westbrook took the driver's seat at Transit Police on June 30 when her predecessor, Commander Mike Leloff, was promoted to Assistant Chief of the Portland Police Bureau's Services Branch, which includes Transit Police. She has been with the Portland Police Bureau since 1993, and had served as commander of East Precinct and, most recently, Central Precinct.
Westbrook has been deeply involved in the Bureau's crisis intervention team. She's one of the creators of the Bureau's Behavioral Health Unit and oversaw the Canine Unit, Mounted Patrol Unit and Rapid Response Team. She's also on the board of JOIN ─ a group helping homeless get off of the streets and into housing.
Westbrook says she's drawn toward the community policing aspect of Transit Police as well as the officers and deputies serving on the unit, which she describes as the best of the best as the assignment is a coveted one among local law enforcement.
She wants riders to know that, "Transit Police officers are here to keep you safe, help educate you and your children about staying alert around TriMet vehicles and share tips to help you protect yourself and your things.  We want every rider's experience on board TriMet – to be a safe one."
Westbrook also has messages for TriMet operators and employees, and for those who might look to harm them. "Their safety matters," stresses Westbrook. "We have zero tolerance for assaults on operators, supervisors and field staff. Cases receive priority response and investigations, and aggressors will be held accountable." Westbrook is serving on TriMet's new Security Continuous Improvement Team and plans to work with TriMet employees to increase their safety.
Deep roots in the Pacific Northwest
Westbrook's roots in the Pacific Northwest run deep, growing up in Spokane, Wash. She started her police career at the Thurston County Sheriff's Office in 1985. It was a disturbing period in Northwest history and one that drew her into law enforcement. One of the nation's most prolific serial killers, dubbed the Green River Killer, was murdering women and girls along the I-5 corridor. Gary Ridgway was arrested in 2001, and pled guilty to 49 murders, although by his own count the number of victims is closer to 70.
"I'm going to become a police officer and I'm going to get him," thought Westbrook during the first years of the killings. "That was the spark and once I had that idea, police work has been a calling, a vocation for me."
Off the job
Westbrook spends her time away from the job with her partner of 26 years and their two dogs and a cat on their property in Clackamas County where they plan to build a house and do some landscaping. She wants to take up woodworking and metal work to build some benches and she'd love to try her hand at an excavator.
Westbrook says she's here for the long haul. "The Northwest is the most beautiful place in the world," said Westbrook. "The mountains, the ocean, the fresh air… people travel from all over the world to see Multnomah Falls and the Gorge. It's right here in our backyard."