New buses to replace older ones, help meet service expansion needs
TriMet's board approved a contract Wednesday to provide 33 new diesel buses for fiscal year 2019—with an option for 257 more from fiscal years 2020 through 2023—to replace older buses and expand the overall fleet. The 33 new buses allow TriMet to reach the industry average of an 8-year-old fleet in 2019.
TriMet signed its previous contract in 2013 that included 262 new buses for deliveries between fiscal year 2015 and fiscal year 2019. Forty-four diesel buses will be delivered in fiscal year 2019 as part of the older contract. However, because of service expansion, TriMet will add another 33 in that same period under the new contract.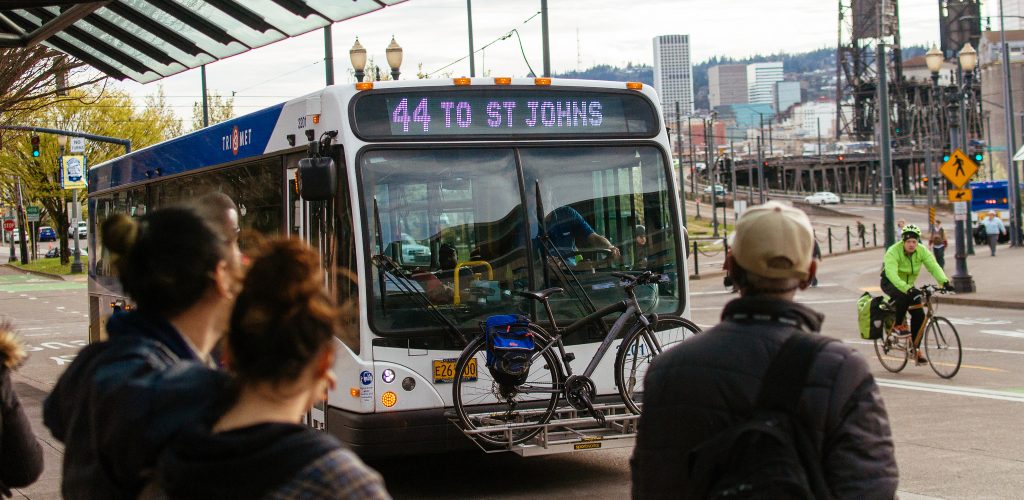 "By securing this successor contract, it allows us to expand our bus fleet while also retiring old buses, which we've been able to do every year since 2013," said Neil McFarlane, TriMet general manager. "We look forward to continuing to bring additional reliable, modern and safe buses to our community."
The new buses, made by Gillig in Hayward, Calif., will have low floors, air conditioning, the latest emission-reduction technology, electric engine cooling, along with interior and exterior security cameras.
There also is the option to acquire up to eight all-electric hybrid buses.
TriMet currently has 655 buses in its fleet, which will increase to about 677 in September. It may add more than 100 expansion buses that would include the 33 new buses in fiscal year 2019 and the exercised options in subsequent years.
Preliminary bus delivery schedule
NEW BUS PROCUREMENT CONTRACT
FY2019

initial order not less than

FY2020-2023

options, up to:

Total

up to:

40-foot diesel
33
249
282
40-foot hybrid
8
8
Totals
33
257
290
Funding
TriMet will fund its bus purchases under the new contract from a combination of federal and state grants, available operating resources, and bond proceeds. The estimated cost for the entire five-year purchase, including options, is about $150 million.
In addition to regular annual bus replacements, TriMet also is committed to increasing service thanks to the passage of an updated employer payroll tax, which took effect Jan. 1, 2016. This means there will be new or improved service investments twice a year, every September and March, through 2025. The service expansions are based on our comprehensive Service Enhancement Plans (SEPs) developed with key stakeholders, businesses, residents and riders over the past few years.
Renewing the fleet
Since 2012, TriMet has put 376 new buses on the road and reduced the average age of the entire fleet to about nine years. TriMet also added 77 buses in fiscal year 2016 and plans to add 50 in fiscal year 2017 and 57 more in fiscal year 2018.
In the past 20 years, Gillig has delivered about 25,000 buses to more than 300 U.S. transit agencies, including TriMet's regional partner, C-TRAN.