Rose Festival Fleet arrivals/departures: Plan an extra 30-60 minutes for trips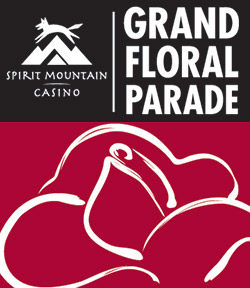 Come rain or come shine, the Rose Festival Grand Floral Parade winds through the streets of Portland City Center on Saturday, June 11 from 10 a.m. to 2 p.m., and TriMet's ready to get you to the festivities.
TriMet service will run on Saturday schedules with all MAX lines and 18 bus lines serving the Portland City Center. Plan your trip at trimet.org.
TriMet has a number of Park & Rides. Check out trimet.org/parkandride. The lots closer to downtown usually fill up first so consider one a little further out.
Extra MAX trains will run as needed before and after the parade.
Plan to add 15 to 30 minutes to trips through downtown during the event because MAX trains will be stopped periodically for the parade.
Twelve bus lines – 4, 6, 12, 15, 16, 17, 19, 20, 35, 44 and 54/56 – intersect the parade route and will be detoured from about 4 a.m. to 1 p.m. TriMet's customer service staff at 503-238-RIDE can help plan trips in advance. Hours are 8:30 a.m. – 4:30 a.m. Monday through Friday.
There may be some long lines for MAX trains immediately following the parade, so please be patient. Avoid bringing big strollers on MAX. As the trains get crowded, those with a big stroller may have to wait. The same goes for those with bikes.
Consider taking regular bus service or a different MAX line to leave the Portland City Center and then transfer to the line you want. For example, catch a Green Line train on 6th Avenue and transfer to the Blue Line at Gateway Transit Center.
Fares are required in downtown and elsewhere on the TriMet system. Consider buying a Day Pass. It's the same price as two 2 ½-hour ticket.
Make your phone your fare with the free TriMet Tickets mobile app. Learn how easy it is at trimet.org/mobiletickets.
Have a fun and safe Grand Floral Parade by staying alert around our buses and trains. Take just a moment to stop and look both ways before crossing streets and train tracks. Don't cross against the light or get distracted by your smartphone. Our operators will be watching out for you, but please watch for our vehicles too.
If you see something suspicious, say something. Alert a TriMet employee, a police officer, a Rose Festival staff member or call 9-1-1.
Rose Festival Fleet arrivals/departures
This afternoon, June 8, the U.S. Navy ships arrive in town. Then Monday morning, June 13, the entire Rose Festival Fleet will set sail.
Plan an extra 30-60 minutes if commuting across the Willamette River during the arrivals and departures.
Please be patient. All MAX trains will stop as the Steel Bridge lifts to allow the ships to pass under.
TriMet operations crews will monitor the lifts and adjust service as necessary, which may include shuttling MAX riders across the river in buses.
Check trimet.org/alerts before you go.
Buses that travel across the Broadway, Steel and Burnside bridges – lines 4, 8, 12, 17, 19, 20, 35, 44 and 77 – will experience delays and may detour to other bridges.
Consider taking other bus lines that cross the river only using Tilikum Crossing, Hawthorne and Ross Island bridges – lines 6, 9, 10, 14, 15, 30 and 66.
Plan ahead
TriMet's online trip planner makes it easy to plan your trip during the Rose Festival and after, with information on travel and walk times, transfers and cost. Visit trimet.org.