TriMet, Transit Police targeting sharp increase in crimes against employees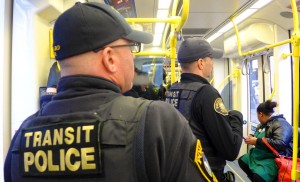 TriMet and Transit Police credit a drop in reported crimes against customers to a more targeted deployment of officers and resources, as well as riders doing their part by keeping a closer eye on their belongings. But an increase in crimes against employees is troubling and putting a stop to it requires the combined effort of TriMet, Transit Police, our employees and our riders.
Customers report far fewer crimes on the system in 2015
In 2015, crimes reported by our riders on board or at stations and stops dropped more than 40 percent. Reported crimes involving customers' vehicles at park and rides decreased as well, 26 percent.
With just about one reported crime a day, or one incident in about 387,000 trips, crime on the system remains low, especially when you consider the 100.3 million rides provided last year.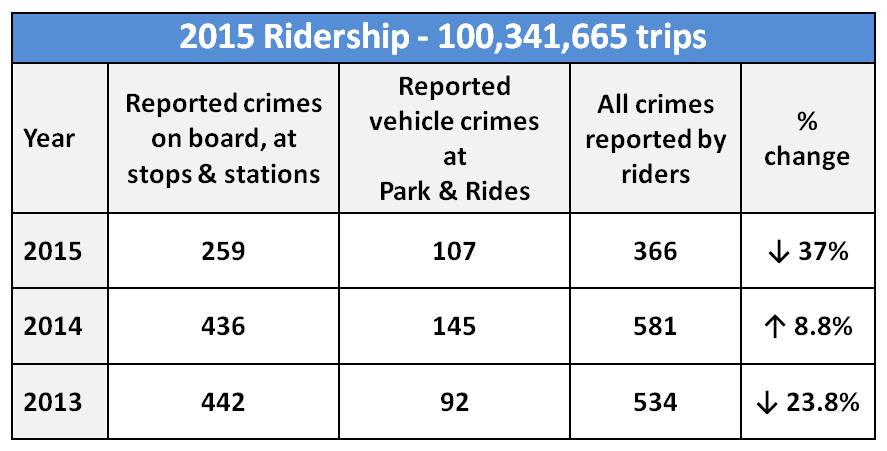 "While the drop in crimes reported by customers is encouraging, we will not get complacent and will keep our focus on continuous opportunities to improve the security of our riders and our transit system," said TriMet's Executive Director of Safety and Security Harry Saporta.
Last year Saporta added a crime analyst to the Transit Police ranks. That allowed Transit Police to more quickly identify trends and shift strategies, putting officers on the system in locations and at days and times where incidents were most reported.
Thefts continue to be the highest category of crime reported by our customers on the system, but thefts dropped 52 percent from 275 in 2014 to 132 in 2015. The vast majority of reported thefts involve items left unattended or items left behind or lost and not turned into TriMet's Lost and Found. So with reported thefts down, riders appear to be paying attention to our "Protect Your Stuff" outreach as well as awareness missions by Transit Police officers.
"Our officers ride the system every day, connecting with our mobile community to help educate riders about what they can do to prevent crimes before they occur," said Transit Police Commander Mike Leloff.
Troubling increase in reported crimes against TriMet employees
While reported crimes against customers dropped in 2015, incidents against employees went up. Employees reported 41 crimes last year. That's up from 28 in 2014. Reported crimes against employees include those against operators, supervisors, Transit Police officers and other TriMet employees. What's particularly disturbing for all of us at TriMet is the increase in assaults and harassment/menacing of employees. Reports of those crimes rose from 19 in 2014 to 35 last year, with 17 of the incidents involving bus operators.
"Our frontline employees work hard every day providing a vital service to our community and they should be treated with common courtesy," said TriMet General Manager Neil McFarlane. "I have tasked our Transit Police Division and Executive Director Saporta with exploring what else can be done to protect our frontline employees."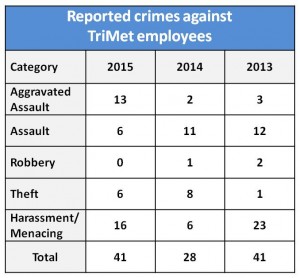 "We are taking a three-pronged approach to target aggressive behavior through enforcement, training and public outreach," said Saporta. "We also will engage our employees in helping find solutions. I will lead a new continuous improvement team made up of operators, supervisors and Transit Police to focus on efforts to increase the safety of our employees."
Transit Police has already begun targeting areas where operators report issues with riders and the public and Saporta is developing a public outreach campaign that will reinforce that assaults on operators will not be tolerated and the agency will aggressively prosecute assailants.
Reported crime by lines
Looking at reported crimes by line, the only sections of MAX lines to see increases in 2015 were on the Blue and Red lines in Beaverton, up four crimes, and on the Red Line between Gateway Transit Center and Portland International Airport, with one additional crime reported last year. The Orange Line, which began operations September 12, 2015, experienced three reported crimes. No crimes were reported on WES Commuter Rail last year.
Only four bus lines experienced more than 10 reported crimes in 2015:
Line 72-Killingsworth/82nd Ave: 18
Line 4-Division/Fessenden: 15
Line 12-Barbur/Sandy Blvd: 13
Line 57-TV Hwy/Forest Grove: 12
2015 Reported Crimes on TriMet Rail System
2015 Reported Crimes on TriMet Bus System
What's next
TriMet and Transit Police will continue to be vigilant in protecting the safety and security of our riders and our employees. By analyzing data and trends, our aim is to become more predictive and target areas and types of crime before they happen. But we cannot do it without the help of our riders. If you see something concerning, please say something. Report it to a TriMet employee or police.