Extra bus and MAX service gets fans to and from the matches
The MLS Cup-winning Portland Timbers are back to defend their title so come cheer them on and leave the driving to TriMet. The Timbers regular season kicks off on Sunday, March 6 at Providence Park. Don't miss a second of the action getting stuck looking for a parking spot.
Our MAX Blue and Red Line trains drop you off across the street from Providence Park. Two regular service bus lines, Line 15-Belmont/NW 23rd and Line 20-Burnside/Stark, serve the stadium. The price of a 2 ½ hour ticket or a Day Pass will be much cheaper than metered parking with event parking rates in effect nearby. Plan your trip there with TriMet's online trip planner.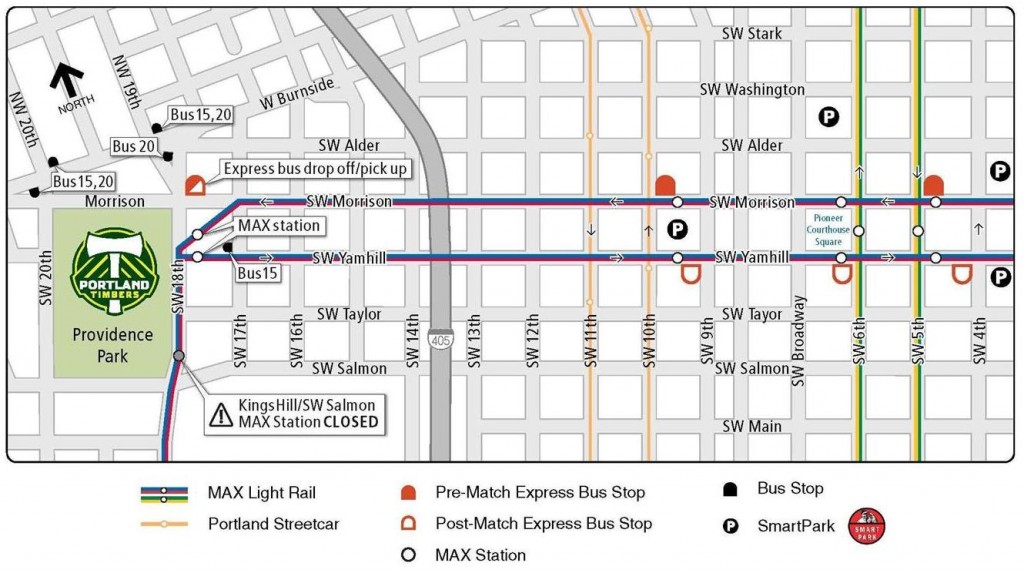 Express buses running before and after matches
TriMet runs Timbers Express buses between downtown Portland and Providence Park. Catch the buses across from MAX stations at Mall/SW 5th Ave and Galleria/SW 10th Ave beginning about 90 minutes before a match. After the game, board express buses across from Providence Park's main entrance on Morrison Street at 18th Ave. The buses will drop off at three MAX stations (Library/SW 9th Ave, Pioneer Square South and Mall/SW 4th Ave) to connect to parking garages and MAX Green, Orange and Yellow line trains. Standard fare is required on express buses.
Use caution around MAX platforms, tracks
Extra MAX trains will be available, if needed, following matches to help get you on your way home. We remind everyone to pay attention and take just a moment to be aware when crossing tracks and streets outside the stadium.
Because of safety concerns the Kings Hill/SW Salmon St MAX platform, near Providence Park, will be closed two hours before game time. It will remain closed until an hour and a half after matches or when the crowd clears.
Make your phone your fare
Fares are required throughout the TriMet system on both buses and trains. Those without a valid fare face a $175 citation or exclusion from the system for up to 90 days. Buying your fare is easy with the free TriMet Tickets mobile app. Easily purchase and use tickets and passes instantly on your phone – anywhere, anytime. Just download the free app, register your debit/credit card in our secure system and you're ready to buy, activate and go. Learn more at trimet.org/mobiletickets.
Plan ahead
TriMet's online trip planner makes it easy to plan a trip, with information on travel and walk times, transfers and cost. Visit trimet.org, m.trimet.org for smartphones.