Give kudos to your favorite bus and rail operators
It can be easy to overlook TriMet bus, MAX and streetcar operators who work hard to give people safe, dependable transit service in the Portland metro area every day. You'll have a chance to officially thank them Friday, March 18, during Transit Driver Appreciation Day.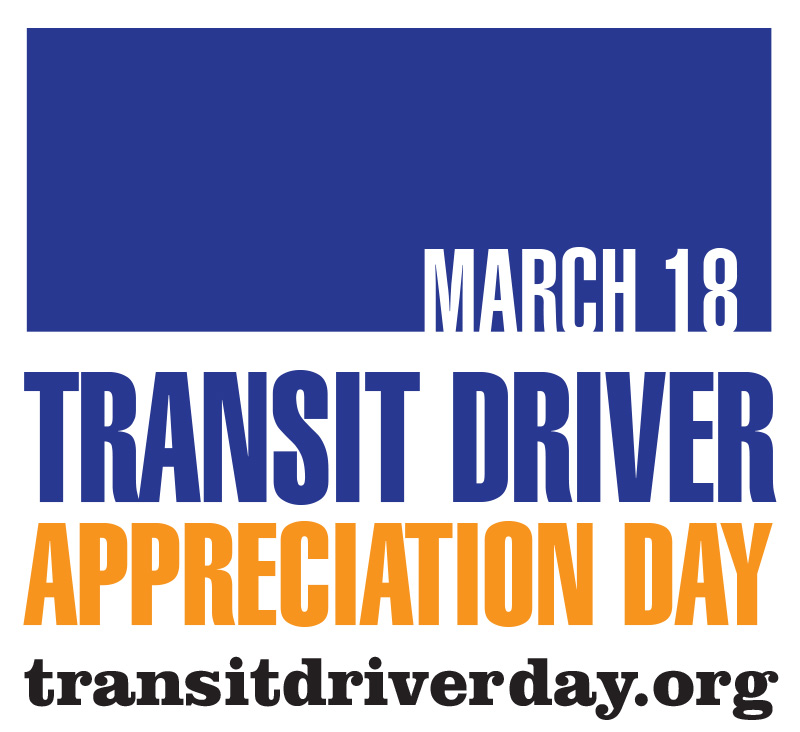 Join TriMet in celebrating the nearly 1,500 operators who provide service to 6,637 bus stops on 79 lines, 97 stations on five MAX lines and 77 stops on Portland Streetcar. They help connect people with our region by providing more than 100 million trips per year—two million per week—for a transit service that runs 22-and-a-half hours per day, every day.
TriMet street teams will hold thank-you signs and give away free thank-you cards to riders Friday at the following locations:
Beaverton Transit Center (6 to 8 a.m; noon to 2 p.m.; 4 to 6 p.m.)
Clackamas Transit Center (6 to 8 a.m.; 4 to 6 p.m.)
Gateway Transit Center (6 to 10 a.m.; 4 to 6 p.m.)
Gresham Transit Center (6 to 8 a.m.; 4 to 6 p.m.)
Rose Quarter Transit Center (6 to 8 a.m.; 4 to 6 p.m.)
Pioneer Courthouse Square (6 to 8 a.m.)
PSU South/SW 5th & Jackson (4 to 6 p.m.)
Spread the love
There are other ways to show your appreciation besides giving a friendly wave and smile. Visit transitdriverday.org to download and personalize a thank-you card for your driver. You can also add your story online at trimet.org/tdad.
On social media, be sure to use the hashtag #tdad while you post a positive comment on Facebook . And you can always submit an official commendation at trimet.org/thanks for a job well done, so your drivers are formally recognized for their efforts. You can do this any time of the year!
Watch this video to see some of our riders thank our operators.
Here are some other operator commendations riders sent to us in the past several months:
"It was a rainy afternoon and I witnessed the driver give away his own personal umbrella to a woman who had none and was going to be walking in the rain. This is not necessary or expected, but it was heart-warming."
— Rider on Line 72-Killingsworth/82nd Ave

"The bus driver showed an amazing amount of care and community awareness. Not only was he kind to me and my two children in a way that surprises you in its rareness, but he was particularly attentive to the passengers' safety once they got off the bus, and to seniors boarding the bus. He created an air of community I haven't felt in a while. I wish I could thank him again."
— Rider on Line 17-Holgate/Broadway

"She was friendly, kind and out-going and warned us because it was a packed bus, 'Taking a corner, taking a second corner, hang on everybody,' and greeted people, 'Welcome aboard.' When people got off downtown, she said, 'See you tomorrow everybody.' I haven't ridden the bus in years. I really want to give props to this woman. Please let her know that she's really amazing."
— Rider on Line 14-Hawthorne
"There was an older woman who was at a station trying to figure out if this was her bus to board, and her hands were full of bags which she was struggling to carry. He put the bus in park and quickly helped the woman carry her bags and get on the bus. Whenever I have him as a driver, I am always excited because he is always so exceptionally friendly."
— Rider on Line 94-Pacific Hwy/Sherwood 
City issues new proclamation
Portland Mayor Charlie Hales has issued a proclamation this week officially declaring March 18 Transit Driver Appreciation Day, from this day forward, to perpetually recognize the hard-working bus and rail operators in our community.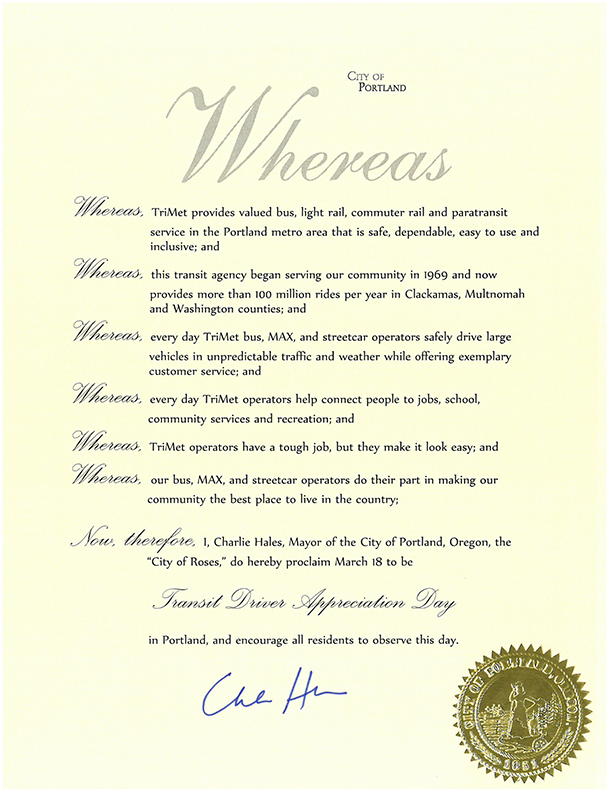 Why March 18?
March 18 is the same day that bus service—horse-drawn vehicles, actually— is believed to have debuted in Paris in 1662. TriMet began Transit Driver Appreciation Day in 2012.