MAX Red Line provides direct trips to PDX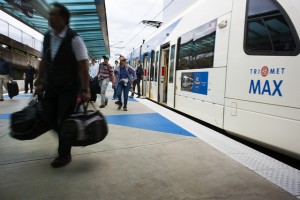 Heading for a warmer destination this spring break? Avoid the high cost of parking and the search for a space at the airport, by getting your vacation rolling on TriMet's MAX Red Line. The Red Line provides direct service to and from the terminal at Portland International Airport (PDX), with trains running about every 15 minutes most of the day.
The Red Line serves more than 20 stations between Beaverton and the airport. Transfer to the Red Line from other MAX or bus lines at Pioneer Courthouse Square, Rose Quarter Transit Center, Gateway Transit Center or other stations. Use TriMet's online trip planner to plan your trip to the airport.
MAX Red Line was the first train-to-plane connection on the West Coast and continues to serve as a quick connection to bypass traffic. You can get from Portland City Center to PDX in just 38 minutes. Save money you would spend on parking. Plus, it's easy to roll your luggage on board. Just keep it in your possession and under your control. See why more than 15 million people have taken the train to or from PDX since September 2002.
Take transit to the train or bus too
Not going by air? You can also take transit to the train. MAX Green Line, MAX Orange Line, MAX Yellow Line and various bus lines serve Amtrak's Union Station and the Greyhound Bus Terminal. Plan a trip to Union Station or Greyhound.
Make your phone your fare with TriMet Tickets mobile app
There's no need to keep track of another ticket. Our free TriMet Tickets mobile app lets you easily purchase and use tickets and passes instantly on your phone – anywhere, anytime. Just download the free app, register your debit/credit card in our secure system and you're ready to buy, activate and go. Learn more at trimet.org/app.