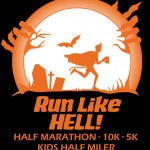 "Run Like Hell" events to detour some TriMet bus lines, cause bus and MAX delays Oct. 25
Expect some delays to TriMet service on Sunday morning, Oct. 25, as zombies, ghosts and goblins take to the streets in downtown Portland for the annual Halloween-themed "Run Like Hell" events. Plan extra time for trips between about 7:30 a.m and 11 a.m.
MAX service impacts
The race events cross tracks on all MAX lines at several locations in downtown Portland. Trains will hold for several minutes to allow walkers and runners through.
Bus service impacts
Ten bus lines will be rerouted. Those include lines 12, 14, 15, 17, 20, 35, 44, 54, 56 and 77. Buses on other lines may be stopped for a time as runners and walkers pass. Click here for a map of the "Run Like Hell" events. Before heading out on Sunday morning, check trimet.org/alerts for impacts to particular lines.
Plan ahead
TriMet's online trip planner makes it easy to plan a trip, with information on travel and walk times, transfers and cost. Visit trimet.org for complete transit information and to check TransitTracker for the next arrivals.