Major app upgrade with new look, better performance coming soon
More TriMet riders are going mobile, buying more than five million mobile tickets in less than two years! We launched the TriMet Tickets app September 4, 2013 and riders have been quick to show their support of the mobile technology that makes paying their fares quicker and more convenient.
TriMet riders have purchased nearly 5.3 million mobile tickets, with more than 2.35 million bought so far this year. At this rate, we will likely reach about 3.6 million by the end of 2015, eclipsing last year's total mobile ticket sales by more than one million.
Mobile ticket counts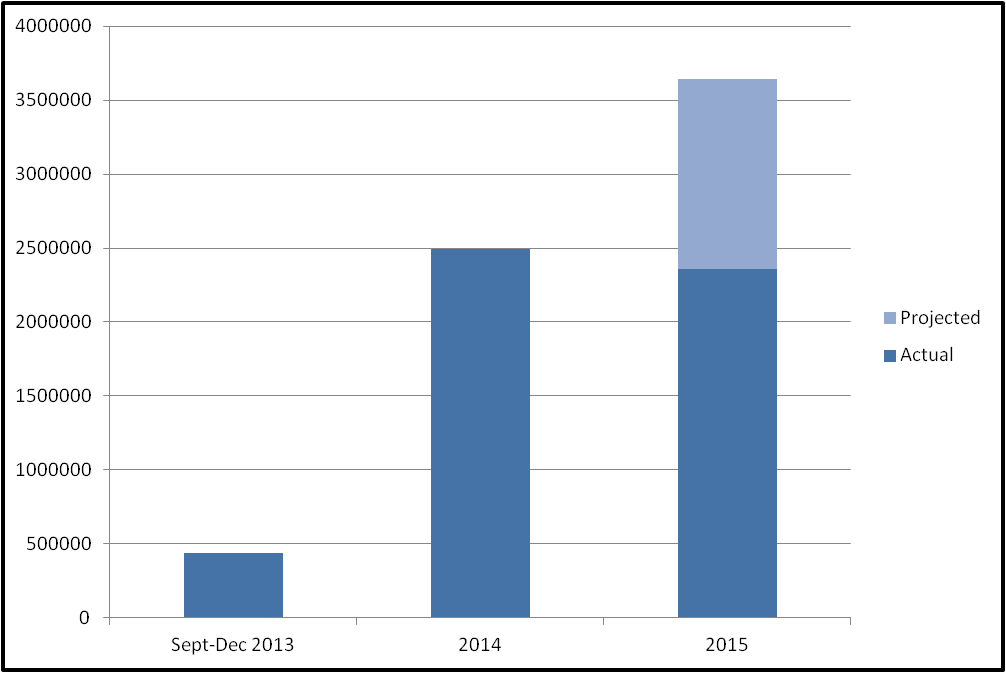 Users have downloaded the free TriMet Tickets app more than 230,000 times.
• Apple Downloads: 161,067
• Google Downloads: 70,591
With the app, purchase tickets anywhere, at anytime right on your smartphone. And the tickets are stored in your phone. It's quick and easy. Learn more.
How we compare
TriMet was the first transit agency in the U.S. to implement a mobile ticket for use on both buses and trains. Dallas Area Rapid Transit (DART) quickly followed, offering mobile tickets, using GoPass, beginning September 16, 2013. DART riders have bought 1.78 million mobile tickets. DART ridership is slightly smaller than TriMet's. They provided 92.1 million trips systemwide in fiscal year 2014, compared to the 98.8 million trips TriMet provided.
TriMet has set the trend in mobile ticketing. A number of other agencies have jumped on the mobile bandwagon, launching or preparing to launch their own apps. That includes Virginia Railway Express, Valley Metro in Phoenix, Metro Capital in Austin, New York Metropolitan Transportation Authority, Chicago Transit Authority and others.
Drop in other fares – and coin
TriMet's mobile ticketing is picking up speed – and users – and made up about 11 percent of our fare revenue in fiscal year 2015 (July 2014-June 2015). While mobile ticket use goes up, we're seeing drops in all other fare sales channels including at ticket vending machines, fareboxes and retail outlets. A somewhat surprising change has been the change in change. Our processing of coins has decreased 10 percent.
Coming soon: New look, better performance and more!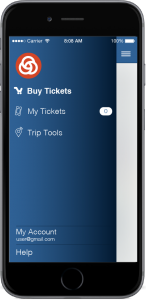 A new and improved version of the TriMet Tickets app will be coming out within the next few weeks. With our partner, local software developer GlobeSherpa, we've given the app a more modern, clean look and upgraded the performance.
TriMet Tickets app upgrade
New navigation "drawer" allowing quick and easy access to menu options (iOS)
Simplified purchase process with new design and improved performance
Easier access to account and transaction information
And that's not all! The new version comes with a cool new game that will celebrate the opening of the MAX Orange Line. The game, Orange Marks the Spot, goes live Saturday, Sept. 12 through Sunday, Sept. 20. Users will be able to explore the areas and businesses along the Orange Line while getting some special deals and earning points toward great prizes. We'll have more information about the game closer to September 12, but you can only play with the updated app so be sure to watch your app store for the update within the next few weeks.