Orange-themed picnic and once-in-a-lifetime fireworks display off deck of Tilikum Crossing celebrates the new MAX Orange Line
In honor of the new MAX Orange Line, TriMet will host Portland's first ever orange-themed Orange Picnic and Fireworks Spectacular at Zidell Yards on Saturday, Aug. 22. The Orange Picnic in the South Waterfront area kicks off at 5 p.m. so wear orange, bring a basket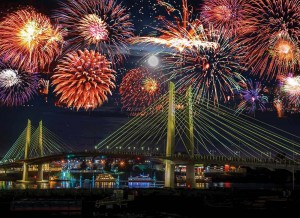 filled with orange picnic goodies and help us create a splash of color and fun along the Willamette. Also enjoy:
• On-site food carts and BridgePort Brewing beer garden featuring the new Tilikum Crossing Orange Line IPA.
• Salt & Straw will unveil its special-edition orange-themed Olive Oil & Burnt Orange Marmalade ice cream.
• Live family-friendly music played throughout the evening.
The Fireworks Spectacular will be a once-in-a-lifetime event with fireworks displayed off the deck of Tilikum Crossing, Bridge of the People, around 9 p.m. It will be one of the biggest and best fireworks show in Portland.
Where: Zidell Yards
3030 SW Moody Ave in South Waterfront
SPECIAL INSTRUCTIONS
The picnic area is on a gravel surface, so bring chairs or padded blankets. Some picnic tables with seats will be available.
No beverages, except water in factory-sealed bottles, will be permitted into the viewing area. Water will be available for free to fill cups or empty containers.
When: Saturday, Aug. 22 from 5-10 p.m.
Portland Picnic Society
Members of the Portland Picnic Society will also be in attendance, picnicking amongst the crowd and offering copies of their new cookbook, "The Picnic" that feature delicious recipes and ideas for putting together the perfect alfresco meal. They'll provide fun orange picnic tips through TriMet social media and at portlandpicnicsociety.com/blog in the days leading up to the event.
Getting there
Ride Portland Streetcar to the SW Moody & Meade Ave stop or bus line 35-Macadam/Greeley.
Thanks to our sponsors!
The MAX Orange Line opens on Saturday, Sept. 12. Visit Catch the Orange to see list of events leading up to the Grand Opening. Catch the Orange events are sponsored by over 40 businesses and partners, led by:
Stacy and Witbeck—Title Sponsor
Pamplin Media Group—Presenting Sponsor
Kiewit—Tilikum Crossing Sponsor
Siemens Industry, Inc.—Premier Sponsor
KGW—Media Sponsor
Tilikum Crossing – the only one!
The Orange Line's Tilikum Crossing is the only bridge of its kind in the U.S. carrying MAX light rail and Portland Streetcar trains, buses, bicyclists, pedestrians, but no private vehicles.
About the MAX Orange Line/Portland-Milwaukie Light Rail Transit Project
The 7.3-mile MAX Orange Line opens on Saturday, Sept. 12, 2015. It will improve transit along the corridor that extends from the terminus of the MAX Green and Yellow lines at Portland State University in Downtown Portland to South Waterfront, SE Portland, Milwaukie and North Clackamas County.
• 10 new MAX stations for a total of 97 stations systemwide.
• Expands the MAX system to 60 miles.
• 10 bus lines will be adjusted to make connections to Orange Line stations and more community connections.
• 446 new bike parking spaces, including 2 secure Bike & Ride facilities, at SE Tacoma St/Johnson Creek and SE Park Ave stations.
• 2 Park & Rides: 318 parking spaces at SE Tacoma St/Johnson Creek Station and 401 parking spaces at SE Park Ave Park & Ride Garage and 9 EV spaces with chargers.
Project partners
The Federal Transit Administration, State of Oregon, Clackamas County, Metro, City of
Milwaukie, Multnomah County, City of Oregon City, Oregon Department of Transportation, City of Portland, Portland Development Commission and TriMet.