Lloyd Center Station to close Aug. 10-21; work also underway in Portland City Center, on Westside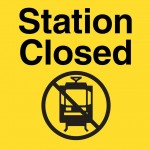 The Lloyd Center/NE 11th Ave MAX Station will close for up to 12 days, Monday, Aug. 10 through Friday, Aug. 21, as we lay the foundation for TriMet's future state-of-the-art electronic fare system. Crews have been hard at work this spring and summer putting in equipment that will power our e-fare system when it comes on-line in 2017. Installation has been completed at 43 of the more than 90 MAX and WES stations. The majority of platforms stay open during the construction but for safety, due to heavy use and close quarters, the Lloyd Center platforms need to be closed. Use the nearby NE 7th Ave MAX Station to board east- and west-bound trains during the closure.
Foundation for other amenities installed
While the e-fare work is underway, other crews will install wires and cables that will lead to future amenity upgrades, including the addition of digital information displays. Completing all the work at the same time will lessen the impact to riders in the future.
Other e-fare construction underway
E-fare construction also is underway at stations in the Portland State University area as well as in Beaverton and Hillsboro. Those stations are open during the work with small areas blocked off. The installation has been completed at all the Green and Red Line stations along I-205 other than the Gateway Transit Center, as well as all Yellow Line stations in North Portland. Multiple crews are doing the work in order to complete the initial construction by the end of the year.
Riding buses and trains will be faster, easier and more convenient with e-fare. Simply tap a transit-only smartcard, a contactless payment card or a smartphone equipped with near-field communication against a card reader to pay your fare.
Visit trimet.org/efare for more information on our upcoming e-fare system and additional information and schedules for the construction, or sign up for email updates to get a heads-up on upcoming station closures.
Making Transit Better
We know our riders want more and better service. That's why, over the next few years, we're working to grow our network of buses and trains – while improving the overall rider experience. We're increasing service frequency, which means less waiting at stops and less crowding on board buses and trains. And, we're improving our trip tools so you have access to service information when and where you need it, along with convenient ways to pay your fare.
New transit projects, such as the Portland-Milwaukie Light Rail Transit Project – the MAX Orange Line – opening Sept. 12, 2015, will provide more service and more connections to jobs, school and other community services. Meanwhile, ongoing upgrades to vehicles, stations and tracks are helping to improve reliability and make your ride more comfortable.