All MAX schedules adjusted to accommodate new Orange Line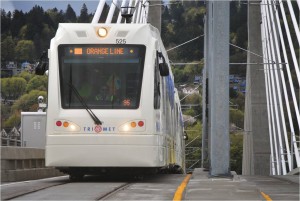 On Sunday, Aug. 30, MAX Orange Line test trains will begin running frequently along the 7.3-mile route between Downtown Portland and north Clackamas County. Orange Line trains will operate on their regular schedules but not pick up riders during two weeks of simulated revenue service. The Orange Line opens on Saturday, Sept. 12, at 11 a.m.
Check your MAX schedule
Also starting on Aug. 30, MAX Blue, Green, Red and Yellow line schedules will have minor adjustments to accommodate the new Orange Line into the system, as well as to improve reliability and connection times. View the new MAX and bus timetables to see how these changes may affect your trips.
Stepping up safety education and enforcement
Orange Line trains will run from around 5 a.m. until around midnight on weekdays and 1 a.m. on weekends. Trains will run about every 15 minutes or better between 5:30 a.m. and 9:30 p.m. Again, trains will not be picking up riders during simulated revenue service Aug. 30 through Sept. 11.
With new train operations, the public should be alert of approaching trains. We're stepping up our safety efforts to educate motorists, bicyclists and pedestrians about being safe around trains. On Monday, Aug. 31, the Transit Police Division and the Portland Police Bureau's Traffic Division will begin a multi-week safety campaign at the SE 8th, 11th and 12th rail crossings south of Division Street. We've seen risky behavior at these light rail and heavy rail crossings. People violating traffic and pedestrian control devices will be issued warnings or citations.
Additionally, as fencing and gates are being removed along the Orange Line, we want to remind the public that for their safety and the safety of our riders and operators the Orange Line tracks are for transit-use only. The transit-only trackways include the Harbor Viaduct (east of SW Naito Parkway), Tilikum Way (east of SE Water Ave) and Tilikum Crossing, Bridge of the People. Trespassing in the track area is hazardous and illegal.
Thanks to our sponsors!
There are many sponsored events leading up to the Grand Opening on Sept. 12, including First Light on Sept. 10 when we 'flip the switch!' on the aesthetic nighttime light program for Tilikum Crossing, Bridge of the People. Visit Catch the Orange for details; more than 40 businesses and partners are sponsors, led by:
Stacy and Witbeck—Title Sponsor
Pamplin Media Group—Presenting Sponsor
Kiewit—Tilikum Crossing Sponsor
Siemens Industry, Inc.—Premier Sponsor
KGW—Media Sponsor
Tilikum Crossing — the only one!
The Orange Line's Tilikum Crossing is the only bridge of its kind in the U.S. carrying MAX light rail and Portland Streetcar trains, buses, bicyclists, pedestrians, but no private vehicles.
About the MAX Orange Line/Portland-Milwaukie Light Rail Transit Project
The MAX Orange Line will improve transit along the corridor that extends from the terminus of the MAX Green and Yellow lines at Portland State University in Downtown Portland to South Waterfront, SE Portland, Milwaukie and North Clackamas County.
• 10 new MAX stations for a total of 97 stations systemwide.
• Expands the MAX system to 60 miles.
• 10 bus lines will be adjusted to make connections to Orange Line stations and more community connections.
• 446 new bike parking spaces, including two secure Bike & Ride facilities, at SE Tacoma St/Johnson Creek and SE Park Ave stations.
• Two Park & Rides: 318 parking spaces at SE Tacoma St/Johnson Creek Station and 401 parking spaces at SE Park Ave Park & Ride Garage and nine EV spaces with chargers.
Project partners
The Federal Transit Administration, State of Oregon, Clackamas County, Metro, City of Milwaukie, Multnomah County, City of Oregon City, Oregon Department of Transportation, City of Portland, Portland Development Commission and TriMet.