Plan ahead during Friday's Rose Quarter Transit Center disruption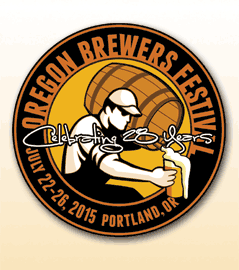 Whether stout is your style, you have a passion for pales or blonde brews beckon you, let TriMet be your designated driver to the 28th Annual Oregon Brewers Festival.
The festival runs Wednesday through Sunday, July 22-26, in Tom McCall Waterfront Park, and all MAX lines plus more than a dozen bus lines will drop you a short distance away. The closest MAX stop is the Oak/SW 1st Ave Station served by the MAX Blue and Red lines.
Improvement project to disrupt MAX on Friday through 2 p.m.
Be sure to plan your trip ahead of time using TriMet's online trip planner. If heading to the beer festival from the eastside on Friday before 2 p.m., make sure you plan extra time. A track improvement project near the Rose Quarter Transit Center will disrupt MAX Blue, Green and Red lines and, if riding those lines, you'll need to transfer to shuttle buses for a short stretch before returning to a MAX train at Interstate/Rose Quarter Station for your ride into downtown Portland.
Be respectful of fellow riders, TriMet operators
After partaking in some pilsners (or other brews), please be respectful of fellow riders and your TriMet operator. Act appropriately on TriMet vehicles and property.
Make your phone your fare
While you're sipping the suds, don't worry about keeping track of your TriMet ticket, let your phone be your fare. The TriMet Tickets mobile app is free to download and lets you buy 2 ½ hour tickets or a day pass anywhere at any time, and it is stored in your phone. Check it out at trimet.org/mobiletickets.
Plan ahead
TriMet's online trip planner makes it easy to plan a trip, with information on travel and walk times, transfers and cost. Visit trimet.org or m.trimet.org for smartphones.