MAX trains, buses provide easy access to 31st annual Cinco de Mayo Fiesta at Waterfront Park May 2-3, 5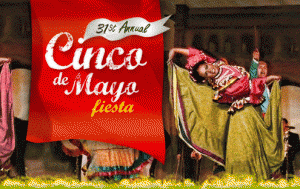 Grab a sombrero and jump on board TriMet to enjoy the 31st annual Cinco de Mayo Fiesta at Waterfront Park this weekend. The festivities swing into action Saturday, May 2nd at 11 a.m. with a world record attempt for the largest gathering of people wearing sombreros at 6 p.m. The fun continues on Sunday and returns on Tuesday, the actual Cinco de Mayo. All MAX lines and more than a dozen bus lines serve the downtown area.
Tarifas required on all trains, buses
Don't put a damper on the fiesta; remember tarifas – or fares – are required on all TriMet vehicles including MAX. If riding without a fare, it could cost you dinero or exclusion from the transit system.
Cinco de Mayo Run to cause minor service delays
Sunday morning, Cinco de Mayo Run events take to streets in southwest and northwest Portland. Expect some minor MAX and bus delays as vehicles hold at times to allow runners and walkers by. Four bus lines – 15, 17, 20 and 77 – will be detoured during the events. Before you go, check the services alerts page at trimet.org/alerts.
Fiesta fun and sports action on tap
Along with the fiesta, the Portland Timbers take to the pitch at Providence Park on Saturday night. Plan some extra time when heading home from both events.
Make your teléfono your fare
The TriMet Tickets mobile app lets you make your teléfono your fare. With the free app easily purchase and use tickets and passes on your phone – anywhere, anytime. Just download the app, register your debit/credit card in our secure system and you're ready to buy, activate and vámonos. Learn more at trimet.org/mobiletickets.
Plan ahead
TriMet's online trip planner makes it easy to plan a trip, with information on travel and walk times, transfers and cost. Visit trimet.org, or m.trimet.org for smartphones.