Added resources and 2014 reported crime statistics help agency shape security strategies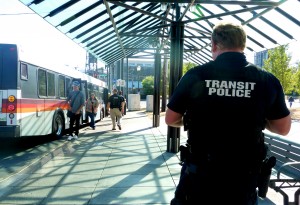 As the MAX system grows with the addition of the Orange Line in September, TriMet will grow its security efforts. That includes adding officers to the Transit Police Division, increasing the number of contracted security patrols and expanding our extensive network of security and operational cameras.
More service, more security
TriMet Executive Director of Safety and Security Harry Saporta today announced new security related positions and patrols, as well as additions to our security and operational camera network in advance of the Orange Line opening. These include:
Five Transit Police officers
A dedicated crime analyst
Four contract security patrols
More than 230 fixed-location security cameras
Some 180 on-board operational and security cameras on the new Type 5 trains
Reported crime remains low
Saporta today also briefed the TriMet Board of Directors on the reported crime statistics for 2014. Crime on the TriMet system remained very low.
All incidents reported by riders:
1 in 173,000 trips
Incidents reported by riders on board, or at a stop or station:
1 in 231,000 trips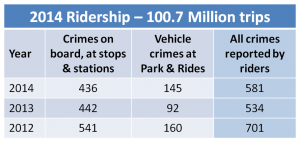 With 100.7 million rides taken on TriMet in 2014, customers reported 436 crimes on board and at stations and stops. That's down by 6 crimes from last year and down more than 100 crimes or 19 percent from 2012.
Vehicle crimes at TriMet Park & Rides rose by 53 in 2014 to 145, which led to an increase in all reported crimes against customers, up 47 to 581 last year. That equals less than two reported crimes a day and 120 crimes less than were reported in 2012.
"Motor vehicle thefts and car break-ins increased in the City of Portland in 2014, so it is not surprising to see the increase as well at the Park & Rides," said Transit Police Commander Mike Leloff.
What we are doing: Increased patrols, increased education, more strategy
In response to the incidents at our Park & Rides, we have increased security patrols. TriMet will also be helping Park & Ride users by educating them about leaving belongings in plain sight.
TriMet and Transit Police will continue efforts to keep riders safe on board as well. Officers will be conducting patrols in both uniform and plainclothes, and carry out targeted missions. Adding a crime analyst will help address issues quickly.
"With a dedicated analyst, we will have quicker access to crime data and detail so we can revise our strategy and tactics, Transit Police can more strategically deploy officers and we can put other security resources into use such as cameras or additional security personnel," said Saporta.
Protect your stuff
The majority of the crimes on board buses and trains and at stops and stations were reported thefts (275), and the majority of the crimes at Park & Rides were thefts from cars (85).
"At least a hundred of those thefts were reported after a rider lost an item, left it behind or unattended, or fell asleep and woke up to find something missing," said Saporta.
"We need your help," he added. "When you are on transit, just as when you are in any public place, pay attention to your things. You wouldn't leave six one hundred dollar bills sitting on a seat and walk away, so don't do that with your smartphone or other belongings."
What you can do
Be aware of your surroundings.
Pay attention to your belongings so you don't forget them when you go.
Keep a hold of your purse, backpack, bag or shopping bags.
Keep your phone stowed away or at least in your control.
Keep an eye on your bike.
If parking in a Park & Ride, put belongings in the trunk or use a cargo cover, rather than leaving them in plain sight.
View the 2014 reported crime statistics on trains
View the 2014 reported crime statistics on buses