Bus ridership climbs 6.3 percent following investments in frequent service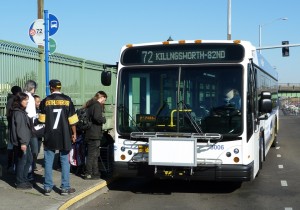 Ridership on TriMet buses and trains increased 3.2 percent in fall 2014 over the same quarter the prior year. Bus ridership, especially on our Frequent Service lines, continues to climb, posting a 6.3 percent increase.
TriMet has 79 bus lines, but trips on our 12 Frequent Service bus lines account for more than half of all bus ridership. During the fall quarter, ridership rose 6.6 percent on those lines. The increase came after the agency extended 15-minute or better service on the lines into the evening hours on weekdays in September. Since September 2013, TriMet has invested $11.2 million in service improvements, the agency's first service expansions since the great recession.
Ridership declined on rail in fall 2014, when there were a number of planned and unplanned service disruptions.
Below are the fall 2014 quarterly ridership numbers:
Bus, MAX & WES
Quarterly trips were up 3.2 percent to 25,094,960
Weekly trips were up 3.2 percent at 1,956,300
Weekday trips were up 3.1 percent to 323,400
Weekend trips were up 3.5 percent to 339,300
Peak trips were up 3.2 percent to 104,800
Bus
Quarterly trips were up 6.3 percent to 15,724,500
Weekly trips were up 6.3 percent to 1,226,800
Weekday trips were up 6.3 percent to 205,600
Weekend trips were up 6.4 percent to 198,800
Peak trips were up 5.7 percent to 66,900
MAX
Quarterly trips were down 1.6 percent to 9,247,800
Weekly trips were down 1.5 percent to 720,000
Weekday trips were down 1.8 percent to 115,900
Weekend trips were down 0.2 percent to 140,600
Peak trips were down 0.6 percent to 36,000
WES
Quarterly trips were down 6.8 percent to 122,660
Weekly trips were down 9.1 percent to 9,500
Weekday were down 9.1 percent to 1,900
We are hiring!
TriMet is hiring new bus operators to meet growing service expansions, including the opening of the Portland-Milwaukie Light Rail Transit Project, and to provide the service improvements listed above. If you are interested please visit: trimet.org/careers