TriMet to provide free rides, extended MAX service on New Year's Eve
TriMet Bus operator Roger Knowles wants people to take advantage of TriMet's free service on New Year's Eve: "Don't put another family through what my family went through. Take the free ride." Knowles, age 39, was just nine years old when his life and his family's lives were shattered after a woman chose to drink too much and drive. So for Knowles, TriMet's annual special service – free rides after 8 p.m. and extended MAX hours on New Year's Eve – isn't just professional, it's personal.
At 6:37 p.m. on January 7, 1984, Knowles and his family were on Highway 212 southwest of Boring, returning home from a day spent playing at Ski Bowl on Mt. Hood. Despite the years that have passed, Knowles remembers it as if it was just days ago. "We were going to go back up the next day and take skiing lessons," he recalls. Their plans were destroyed in a flash of headlights.
The drunk driver was coming from the other direction. Her car first went off the right shoulder but then veered back onto the roadway and crossed right into their path. Knowles' stepdad hit the brakes right before impact but the t-bone collision was violent.
"My mom's ankle got caught under the dashboard," said Knowles. "She broke nearly every bone from her waist down." For his brother Doug, who was just 12, the collision left him paralyzed. "I remember him still in the car yelling that he couldn't move," said Knowles.
Knowles suffered a deep gash over his left eye. His stepdad escaped with bruising to his chest from the steering wheel.
Doug spent nearly two years in hospitals. Their mom, Rosieanne, spent more than four months in the hospital, and then needed special care for another year after coming home. "I went from nine years old to 20 years old in the course of a few weeks, doing laundry, cooking and taking care of the house," recalls Knowles.
While the crash occurred miles away from their Gladstone home, it turned out the drunk driver lived just six blocks away from them. Her blood alcohol level was 0.18 that night, and she was not alone in her car. Her six-year-old daughter in the passenger's seat was killed.
The experience led Knowles' mother to start the Clackamas County chapter of Mothers Against Drunk Driving (MADD) and set up victim impact panels to talk with people who had been caught driving drunk. She still has constant pain and difficulty walking. Knowles' brother has adjusted to life in a wheelchair. The physical and emotional effects are lasting for all.
"I tell my friends, if you have had too much to drink and can't or shouldn't drive, call me," says Knowles. Some friends have taken him up on that. Knowles' message about TriMet's free New Year's Eve rides? "Take advantage of it," he says. "I know it sounds cliché, but if it saves one life, it's worth it."
Celebrate safely and responsibly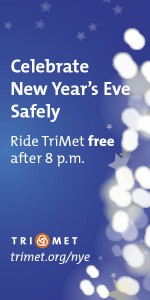 While TriMet operators will do the driving for you on New Year's Eve, please celebrate responsibly. That means following simple safety requirements and behaving appropriately and respectfully while on TriMet property and vehicles.
Safety tips
Pay attention around buses and trains, and be aware of their movements.
Stay a safe distance away from vehicles as they arrive or leave stations and stops.
On MAX platforms, stay off of the white, bumpy tactile strip at the edge of the platform.
Use established crossings and follow all pedestrian warning and crossing signals.
Look both ways, whether crossing a street or MAX tracks.
Extended MAX service on New Year's Eve
MAX Blue, Green and Yellow trains will run on weekday schedules with late-night service running approximately every 30 minutes until about 3 a.m. Service information is listed below and at trimet.org/nye.
Blue Line
Last trip from Gresham to Portland City Center leaves Cleveland Ave at 2:22 a.m.
Last trip from Hillsboro to Portland City Center leaves Hatfield Government Center at 2:22 a.m.
Last trip to Gresham leaves Pioneer Square South at 3:12 a.m.
Last trip to Hillsboro leaves Pioneer Square North at 3:12 a.m.
Green Line
Last trip to Portland City Center leaves Clackamas Town Center Transit Center at 1:44 a.m.
Last trip to Clackamas leaves from Pioneer Courthouse/SW 6th at 3:04 a.m.
Yellow Line
Last trip to Portland City Center leaves Expo Center at 2:24 a.m.
Last Yellow trip to Expo Center leaves Pioneer Courthouse/SW 6th at 3:10 a.m.
Final trip to Rose Quarter Transit Center and Ruby Junction/E 197th leaves Expo Center at 3:42 a.m.
Red Line
Trains run on weekday schedules.
Last trip to Portland International Airport leaves Pioneer Square South at 10:29 p.m. Last trip of the night to Beaverton Transit Center leaves the airport at 11:49 p.m.
Shuttle buses will serve Red Line stations between Gateway Transit Center and Portland International Airport until approximately 3:30 a.m.
The shuttle buses will run every 15 to 30 minutes.
In addition to free rides on MAX and buses, Portland Streetcar service will also be free after 8 p.m. on New Year's Eve.
Plan ahead
TriMet's online trip planning tool, TransitTracker, maps and schedules make it easy to plan a trip, with information on travel and walk times, transfers and cost. Visit trimet.org, m.trimet.org for smartphones.