TSA grants provide extra Transit Police patrols, development of a mobile text-based reporting service
With the holidays approaching, TriMet and our security partners – the Transportation Security Administration (TSA) and the Transit Police Division – want riders to know we are working together to help keep them and the system safe, but we need their help as well.
TSA grant provides extra Transit Police patrols during holidays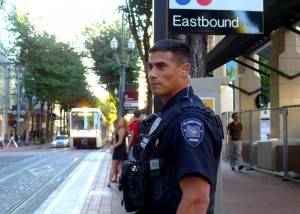 The Transportation Security Administration is an important ally in securing our transit system, providing intelligence on national and international security developments, supplying security teams to augment Transit Police missions, and contributing funding for security tools such as the security cameras posted on all MAX platforms.
The TSA recently approved a nearly $184,000 two-year grant to fund overtime for Transit Police officers to increase missions on and around the TriMet system during the upcoming holiday season. The funds will add Transit Police patrols during Portland's Holiday Tree Lighting, on Black Friday and for New Year's Eve as well as during other large events throughout the next two years.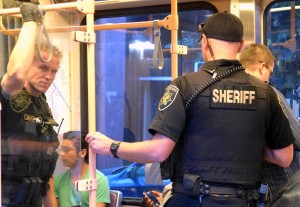 In addition to the grant for police overtime, the TSA has provided more than $244,000 for Transit Police overtime during the past three years, which has added approximately 4,750 patrol hours securing the TriMet system.
"We are proud to partner with TriMet and Transit Police in securing the transit system," said TSA Oregon Federal Security Director Mike Irwin."Our combined efforts heighten safety for riders as well as the communities TriMet serves."
Making it easier for riders to See something. Say Something
The TSA is also helping make it easier for TriMet riders to "See something. Say something" through a more than $224,000 grant to develop a mobile text-based reporting system.
The See something. Say something security campaign encourages riders who see something suspicious to say something – to a TriMet employee, a police or security officer or by calling 9-1-1
"Riders may at times be reluctant so speak up because they don't want to draw attention to themselves or they may be unsure that what they are witnessing, such as a verbal argument, will grow into something more," said TriMet Executive Director of Safety and Security Harry Saporta. "With the TSA grant, we are developing a service where riders can report a security concern by text."
While the system has yet to be designed, it will be monitored in real time and include the ability to send photos, engage in a two-way text conversation or stay anonymous. Other transit agencies throughout the U.S., including Massachusetts Bay Transportation Authority (MBTA), Metropolitan Atlanta Rapid Transit Authority (MARTA), Dallas Area Rapid Transit (DART) and Denver Regional Transportation District (RTD) have had success with mobile applications and services that encourage passengers to report security concerns.
A mobile text-based reporting service also helps deter inappropriate or criminal behavior by increasing the eyes and ears on the transit system that will report bad behavior.
The aim is to have the See something. Say something mobile text-based service in use by this time next year.
Stay vigilant and protect your belongings this holiday season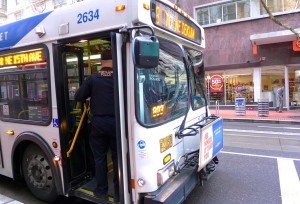 While Transit Police officers increase their missions during the holiday season, riders can take steps to protect themselves and their belongings.
"As our officers patrol the TriMet system, we need your help," said Transit Police Commander Kevin Modica. "Stay vigilant and aware of your surroundings this holiday season."
Rider security tips
Pay attention to your belongings and people paying close attention to you. Be particularly vigilant when a bus or train is coming to a stop. Thieves may try to snatch items just as the doors are about to close.
Keep a hold of your purse, backpack, bag or shopping bags. Don't set them down on another seat or a bench where they may be taken.
Keep your phone and other electronic devices stowed away or at least in your control. When listening to music, keep it tucked away in a pocket or a bag that is under your control.
During dark hours, stand near others and in well-lighted areas. Move to the bus stop pole as the bus is approaching, or toward the train as it stops at the platform.
When using a park and ride, do not leave your belongings in plain sight. Put items in the trunk or use a cargo cover in the back of your SUV. Thieves are on the lookout for quick smash and grab opportunities.