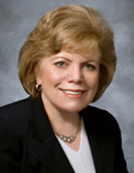 TriMet is pleased to announce that Dee Brookshire will be joining the agency as the Executive Director of Finance & Administration. Brookshire, who will start Aug. 18, comes to TriMet from the Sacramento Regional Transit District (RT) where she has served as CFO for the past 7 years.
She will be responsible for directing the agency's financial services; providing oversight and directing procurement and contracts, financial analysis and grants. Brookshire will continue the work of the agency's 5 year plan to ensure financial stability.
Brookshire has more than twenty years experience in public agency and private sector finance. Her background includes substantial debt restructuring and multiple bond issuances for public agencies. She has aided in successful labor negotiations for agencies with multiple bargaining units.
Brookshire, a transit rider in California, lead efforts at RT in economic recovery bringing back more efficient and cost-effective transportation services following the economic down turn. In addition to her financial experience in transit, she has worked for water and public utility districts, city government and as a public agency consultant.
Among her many community involvements Brookshire has served on the finance committee for the Hispanic Chamber of Commerce and on the board of the Sacramento Business Services Center.
Brookshire received her MBA from the University of Nevada Reno, and received her B.S. in Business Administration-Finance/Economics from California State University Sacramento. She is also a Certified Government Financial Manager through the Association of Government Accountants.
Dave Auxier, TriMet's current interim CFO will stay on full time through the end of August.