Rides will be free during 2-week test of environmentally-friendly bus
TriMet will soon have the opportunity to test an all-electric 40-foot bus, manufactured by Build Your Dreams (BYD) Motors, Inc. The zero-emissions, environmentally friendly BYD bus was delivered to TriMet on June 18, and will be tested for about two weeks on TriMet bus routes throughout the district.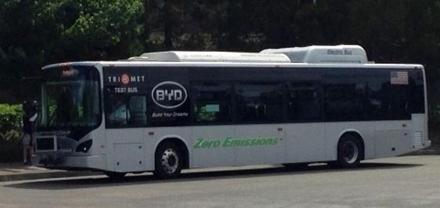 "This is a welcomed and exciting opportunity to test an environmentally-friendly bus on TriMet routes," said TriMet Interim Deputy General Manager Bob Nelson. "Our region is relying more and more on renewable sources of electricity. As an agency, we are exploring a variety of more fuel-efficient options as the environmental benefits are expected to increase over time."
The bus will run on various routes, adding trips between regular service, Monday through Friday, beginning June 23 and running through the first week of July. There will be no testing on July 4 due to the holiday. In order to simulate actual operating conditions – including stopping, starting, light and heavy loads – the test bus will pick up and drop off riders. The bus is not equipped with a farebox or ticket printer, so rides on the electric bus will be free. Any transfers to other TriMet buses or trains will require a fare.
BYD touts their all-electric bus as "clean, silent and efficient," using the industry's first environmentally-friendly, fire-safe battery chemistry. BYD is currently taking this clean and energy efficient U.S.-made bus on tour to various transit agencies in the Northwest, allowing TriMet to put the all-electric bus through its paces. This no-cost testing phase will give the agency first-hand experience with a vehicle we may purchase as part of a new Federal Transit Administration (FTA) grant program in the near future. To learn more, visit http://www.byd.com/na/auto/ElectricBus.html.
Exploring the future of transit
TriMet is exploring opportunities to introduce greener, more fuel-efficient buses into our fleet. Recently we submitted a grant proposal to the Federal Transit Administration (FTA) for $5,630,800, with a $5,348,000 local match, to purchase a total of nine all-electric vehicles and charging stations. We expect to hear the results of that grant request this fall.
The upcoming testing period has no connection with the federal grant but it will allow us a unique opportunity to look under the hood and kick the tires before a purchase, should the grant funds be awarded.
The potential long-term savings to the agency are encouraging. Initial testing of BYD's buses has suggested substantial operating cost savings not only compared to 40-foot diesel, CNG, or Hybrid Electric buses, but also competing manufacturers' battery electric buses. BYD projects that combined energy and maintenance savings would offset the initial purchase price.
BYD Electric buses run entirely off battery power lasting up to 24 hours on a single charge, with single off-peak charging time of two to four hours.
Buses run entirely off of an electric powertrain; there is NO transmission or internal-combustion engine.
Battery chemistry is environmentally friendly, making it disposable and pollution-free with zero emissions.
Riders/members of the public with feedback or questions, please call 238-RIDE or email comments@trimet.org.