Light goes red as TriMet and contractor work on solution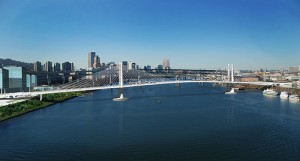 The white light that flashed atop the Tilikum Crossing, Bridge of the People, last night will be a dimmer red tonight. TriMet has spent the day working closely with the construction contractor to determine if the change could be made while still meeting Federal Aviation Administration (FAA) requirements. The light is an Aircraft Avoidance Beacon that is required by the FAA and is one of four that will go up on the bridge's four tower pylons.
With construction progressing, the tall red cranes adjacent to the bridge's two towers are being removed. This week, the crane that hovered over the western tower came down, which meant a light had to go on atop one of the two pylons of that tower. Once all the beacons are installed – two on each tower – they will flash white only during the day and then flash red at night, per FAA regulations.
Next week, the crane at the eastern tower site will be removed and a second light will be activated on that tower. As with the beacon atop the west tower, that one will also flash white during the day and then the dimmer red at night.
About the Tilikum Crossing, Bridge of the People
The bridge, the first built over the Willamette River in Portland in more than 40 years, will be the first cable-stayed bridge for the region, extending 1,720 feet (.326 miles) over the river. The bridge alignment is SW Porter Street on the west side and SE Sherman Street on the east side. This unique bridge will carry transit, bicyclists and pedestrians but no private vehicles. Emergency vehicles will be able to access the bridge as necessary. The bridge includes two 14-foot-wide multi-use paths—one on the north side and one on the south—the widest multi-use paths on any bridge in Portland.
About the Portland-Milwaukie Light Rail Transit Project
The 7.3-mile project is the region's sixth MAX construction project to be built and extends from the terminus of the MAX Green and Yellow lines at Portland State University in Downtown Portland to South Waterfront, SE Portland, Milwaukie and North Clackamas County. About the project:
• 7.3 miles
• 10 stations
• The first of its kind multi-modal transit bridge will carry light rail, buses, bikes, pedestrians and a future Portland Streetcar extension, but no private vehicles.
• Opens Saturday, Sept. 12, 2015
• Expands the MAX system to 60 miles and 97 stations
Project partners
The Federal Transit Administration, State of Oregon, City of Portland, Portland Development Commission, Clackamas County, Metro, City of Milwaukie, Multnomah County, City of Oregon City, Oregon Department of Transportation and TriMet.