FAA requires Aircraft Avoidance Beacons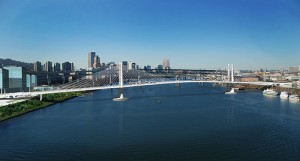 With construction on Tilikum Crossing, Bridge of the People, progressing, the tall red cranes adjacent to the bridge's two towers are being removed, and people are noticing a bright white light on one of the tower pylons now flashing 24 hours a day. That light is required by the Federal Aviation Administration (FAA), but the use of it at night is only temporary.
The construction cranes at the tower sites had a flashing red beacon on them as required by the FAA. This week, the crane at the western tower site was dismantled and removed. Because of that, an Aircraft Avoidance Beacon on the west tower's north pylon was turned on. The FAA requires a beacon on top of each of the tower pylons (two at each tower). Once all the beacons are installed, they will flash white only during the day and then flash red at night, per FAA regulations. The white lights are 10 times brighter than the red lights, so the intensity of the light at night will decrease when all four beacons are activated.
Next week, the crane at the eastern tower site will be removed and a second white light will be activated on that tower, again per FAA regulations. We are working with the contractor on the timeline for when all lights will be installed and functioning so the lights can switch to red at night.
About the Tilikum Crossing, Bridge of the People
The bridge, the first built over the Willamette River in Portland in more than 40 years, will be the first cable-stayed bridge for the region, extending 1,720 feet (.326 miles) over the river. The bridge alignment is SW Porter Street on the west side and SE Sherman Street on the east side. This unique bridge will carry transit, bicyclists and pedestrians but no private vehicles. Emergency vehicles will be able to access the bridge as necessary. The bridge includes two 14-foot-wide multi-use paths—one on the north side and one on the south—the widest multi-use paths on any bridge in Portland.
About the Portland-Milwaukie Light Rail Transit Project
The 7.3-mile project is the region's sixth MAX construction project to be built and extends from the terminus of the MAX Green and Yellow lines at Portland State University in Downtown Portland to South Waterfront, SE Portland, Milwaukie and North Clackamas County. About the project:
• 7.3 miles
• 10 stations
• The first of its kind multi-modal transit bridge will carry light rail, buses, bikes, pedestrians and a future Portland Streetcar extension, but no private vehicles.
• Opens Saturday, Sept. 12, 2015
• Expands the MAX system to 60 miles and 97 stations
Project partners
The Federal Transit Administration, State of Oregon, City of Portland, Portland Development Commission, Clackamas County, Metro, City of Milwaukie, Multnomah County, City of Oregon City, Oregon Department of Transportation and TriMet.