Victor Ornelas becomes first rail operator in agency history to reach Gold Grand Master status
TriMet rail operator Victor Ornelas has recently reached an impressive milestone, one that no other rail operator in the history of the agency has reached to date, the distinction of Gold Grand Master Operator. Ornelas, age 56, has been with the agency for nearly 29 years and has been a rail operator for 22 of them. He is first in rail seniority; meaning no other current operator has been at TriMet longer.
The Gold Grand Master Operator distinction is part of TriMet's Master Operator Program, a program designed to recognize bus and rail operators who achieve overall excellence in their duties as professional drivers. Operators earn Superior Performance Awards (SPA) each time they go 1,960 hours of work without any preventable accidents, warnings, reprimands or suspensions. They also must have excellent records of attendance and customer service. To reach Master Operator status, a driver must accumulate ten SPA awards; for Grand Master level, an operator needs 20; and to achieve Gold Master ranking, he or she needs 30 SPA awards.
Ornelas has 30 SPAs meaning he has completed more than 58,800 superior driving hours. This is no small accomplishment. To attain this milestone you would have to drive 6.7 years nonstop. He has 27, closing in on 28, years of safe driving and has consistently had excellent attendance. His most recent stint was over 13 years of perfect attendance.
"This award is truly an honor," said Ornelas. "I didn't set a goal to become a Gold Grand Master, I just showed up every day and did the job the best I could."
Ornelas continued, "I was very lucky to have to opportunity to work with and befriend a great mentor, Michael DeCriscio, when I started my career at TriMet. He had faith in me and his support and guidance kept me going."
Ornelas is one of only four operators at TriMet to receive the Gold Grand Master Operator award and the first rail operator to be awarded the distinction. Willie Jack became the first bus operator in agency history to reach this level of excellence, which he did in April 2012. Larry Williams followed in September 2012 and Rolynd Puckett reached the milestone in January 2013.
"Victor's record and commitment to safety is an inspiration," said TriMet Executive Director of Transportation Shelly Lomax. "He has shown his dedication day after day, year after year and is an exemplary mentor for our rail employees."
Ornelas has an impressive customer service record and was awarded Rail Operator of the Quarter in 2007 and Rail Operator of the Trimester in 1997. His dedication to his job and commitment to safety has been highlighted by customers who say they "really feel safe" and "grateful for his customer service" and that "he had a very smooth ride, and was really a great operator."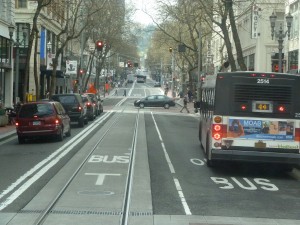 During his 29 years at TriMet, 22 as a rail operator, Ornelas has seen a lot change. "When I started there was only one MAX line that ran from Gresham to Portland," Ornelas said, reflecting on his time at TriMet. ""The transit mall opening really changed operations."
Ornelas continued, "Operators have to be extra diligent now, and almost think for some pedestrians as some forget to look before crossing in front of a TriMet vehicle. Many operators make this job look easy but that speaks to their dedication to safety and skill."
This seasoned operator has had close calls. Ornelas recounted one moment that has stuck with him over the years. While stopped at the Lloyd Center/NE 11th Ave MAX Station, students were roughhousing on the platform as riders were boarding. After the doors closed, Ornelas prepared to pull out of the station. Just as he began to roll a teen was pushed by friends between the first and second vehicle. Fortunately Ornelas was alert to the potential hazard. He secured his train and saw the young woman had fallen between the cars. His attention to his surroundings, and driving skills likely saved her life.
Prior to moving to rail, Ornelas drove numerous bus routes and has operated on all MAX lines since the move. He currently operates the Green/Yellow Lines in Downtown Portland.
Ornelas and his wife of 34 years, Marilyn, enjoy traveling together and spending time together in their down time. Ornelas joined TriMet right after his service in the Air Force. He was stationed out of Fairchild in Spokane, Washington.
"I came to Portland and applied at TriMet and at the Post Office," said Ornelas. "I went to both interviews and TriMet won the draw, thought I would give it a try. Just think, I could've been your postman!"