Seven-year veteran has a nose for security, deterring terrorists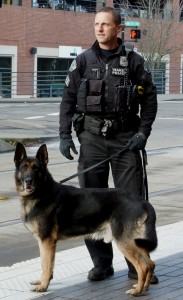 He worked like a dog protecting the TriMet system, riders and the broader community for the majority of his life. Now Officer Rexo is enjoying some R & R in retirement. Rexo served seven years on the Transit Police Division Canine Explosive Detection Unit. He has sniffed countless bags and belongings of TriMet riders, but his expertise has also helped keep the Dalai Lama, U.S. presidents, world-class athletes and others safe from those who might look to harm others.
While Rexo has been a dogged worker providing security on TriMet, he's finding retirement anything but ruff. His human partner, Transit Police Sergeant Jim Simms, says Rexo is already starting to enjoy retirement. "He likes to lie in the house with his favorite toy in his mouth," said Simms. "He deserves some down time after all the work he's done."
Both Rexo and the new officer to follow in his paw prints on the Transit Police Division were funded by the Transportation Security Administration (TSA). The TSA's National Explosives Detection Canine Team Program partners with airports and mass transit systems to employ dogs as an effective and flexible tool to detect explosives on our transportation systems and, in turn, deter terrorists.
"These highly-trained explosive-detection canines provide are vital service to our combined efforts in combating terrorism," said Mike Irwin, Oregon Federal Security Director for the TSA. "By using their amazing sense of smell to sniff out explosive materials, Rexo and the other explosives detection canines sponsored by the TSA keep transit riders, airplane passengers and many others in our communities safe."
The TSA provides TriMet with the money to purchase and train a dog as well as train the officer who handles the canine. Currently that's about $50,000 per team.
"The canine teams add another layer of security, that combined with our Transit Police force, help to keep the TriMet system safe for riders and for employees," said Transit Police Commander Kevin Modica. "As transit is an important part of the local infrastructure, the teams also work closely with local explosives teams to protect the larger Portland metropolitan area."
Rexo's Resume:
– German shepherd
– Born December 2004
– Served on the Transit Police Division 2007-2013
– Hard-working, diligent officer with a nose for explosive materials who dedicated his career to providing safety and security for humans on the TriMet system and the broader community
Accomplishments:
Secured venues for VIPs and dignitaries including President George W. Bush, President Barack Obama and the Dalai Lama
Assured the safety of world-class athletes at the 2008 and 2012 Track and Field Olympic Trials in Eugene, Oregon
Exposed harmless threats called in to schools and other venues
Fortified the security of arenas and stadiums before and doing major sporting events including the NCAA Basketball Tournaments and Portland Timbers/Thorns matches
Rexo will remain with Sgt. Simms, his family and his new canine partner.