TriMet's Transit Police arrested a suspect in the forgery of TriMet passes – possibly more than a thousand of them.
The Transit Police's Transit Response Team made the arrest after a complicated and lengthy investigation into reports of forged passes in the past several months. Officers used TriMet security cameras and footage, and conducted plainclothes and undercover missions to track down the suspected source of the fraudulent tickets.
Wednesday night, April 15, Transit Police officers served a search warrant on a unit at the Central City Concern's Estate Motel, 225 NW Couch in Portland. Officers recovered a stack of stolen TriMet ticket stock and a monthly pass that they believe was used to make fraudulent passes. The ticket stock is several years old and would have been used in a ticket vending machine. How the stolen ticket stock was obtained is still under investigation. Typically a stack of ticket stock has approximately 2,100 blank tickets. Transit Police officers recovered 634 blank tickets.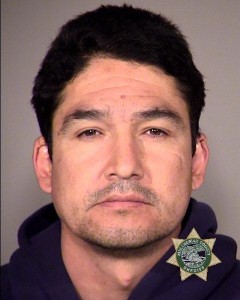 39-year-old Efren Escarsega, Jr. was arrested and charged with multiple counts including Theft in the First Degree, Theft by Receiving in the First Degree and Conspiracy to Commit Forgery in the First Degree. He was booked into the Multnomah County Jail.
"This type of crime is frustrating because it hurts everyone including the agency, our employees and our customers who pay their fare," said TriMet Executive Director of Safety and Security Harry Saporta. "Transit Police officers are dedicated to identifying individuals who commit crimes on our system. The hard work of the Transit Response Team, along with our security tools, was key in making this important arrest."
The Transit Response Team was formed in spring 2013 to conduct more in-depth missions and includes the work of officers in both uniform and plainclothes. "The Transit Response Team conducts some of the Transit Police's more complex investigations," said Lieutenant Eric Schober who oversees the team. "Our focused missions using highly trained officers have proven very effective in identifying and capturing suspects, and reducing crime on our transit system."