Deterring terrorism through explosive detection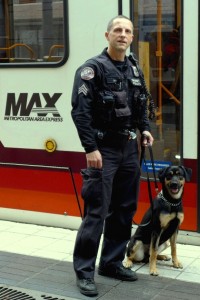 TriMet's Transit Police Division has a new dog joining its Canine Explosive Detection Unit, and he comes aptly named to secure the MAX and the rest of the TriMet system. Officer Max is a two-year-old Labrador mix that comes to TriMet through the Transportation Safety Administration's National Explosives Detection Canine Team Program. The TSA partners with airports and mass transit systems to combat terrorism with highly trained dogs that are able to sniff out explosive materials.
Max is partnered with Transit Police Sgt. Jim Simms and he follows in the paw prints of Rexo. Rexo recently retired after serving seven years on the Canine Explosive Detection Unit. Max came to Transit Police with his name and is not named after TriMet's light rail system, but we are happy to have him joining our security efforts.
"Max and the other dogs on the Transit Police canine unit play a vital role in protecting the TriMet system, our riders and our employees," said TriMet Executive Director of Safety and Security Harry Saporta. "Their unique ability to sniff out explosive materials not only identifies threats but deters terrorists from targeting our transit system."
Max received his federal certification in late February and has been getting his nose wet sweeping trains, buses and TriMet facilities for a few months now.
"At two years old, he really is still a puppy but he's adjusting well to his job," said Sgt. Simms. "He has a lot of energy and a great work ethic."
The TSA covers the cost of a canine, its training and training for the officer who handles the dog.  Currently that's about $50,000 per team.
"Explosive detection canine teams are an important part of the TSA's efforts to combat terrorism in the U.S.," said Mike Irwin, Oregon Federal Security Director for the TSA. "We are happy to team with TriMet to add Max to the Transit Police and enhance their efforts to protect riders and the broader community."
Max' Resume:
– Labrador mix
– Born October 2011
– Transit Police Division January 2014-present
– Energetic, hard-working, great sense of smell, determined to sniff out explosives and protect humans on the TriMet system and in surrounding communities
Max lives with his partner, Sgt. Simms, and his predecessor, Rexo.