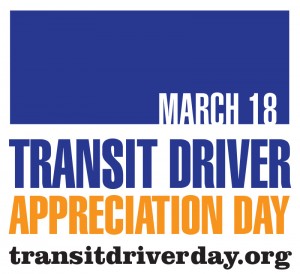 While you sit texting, they're maneuvering a 40-foot bus through traffic. While you close your eyes listening to some tunes, their eyes are scanning for cars, bikes and pedestrians as they pull into a station or stop. While you get to relax and read, they're on alert getting you and other passengers to destinations safely.
Transit Driver Appreciation Day
Each week, TriMet's some 1,260 bus and rail operators provide more than 1.8 million rides. Many riders regularly say "thank you" at the end of their trip, but we're hoping everyone will show extra appreciation on Tuesday, March 18, Transit Driver Appreciation Day! TriMet street teams have been handing out Transit Driver Appreciation Day (TDAD) flyers this past week and will be handing out free "I (heart) my TriMet driver" pins on Tuesday at various TriMet facilities to help build enthusiasm and excitement.
The last few years TriMet has taken part in International Bus Driver Appreciation Day but we wanted to make sure our rail operators get a little love too, so we've transformed it into Transit Driver Appreciation Day.
Join us in saying "Thank you!"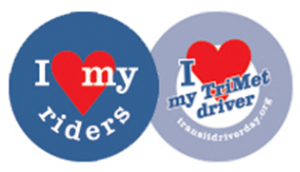 The fact is, transit drivers don't have an easy job, they just make it look that way. So spread the word and join us on March 18th, in celebrating the contributions of our hard-working bus and rail operators! It could be as simple as a smile and a wave when you board the bus or train, and a "thank you" when you leave. You can also go to transitdriverday.org to download and personalize a thank you card for your driver. You can also give a shout out on Facebook at facebook.com/transitdriverday or track the excitement and spread the word on Twitter by using #TDAD.
Don't stop at "thanks", submit an official commendation
You know how good it feels when someone recognizes what you do, so speak up about the good work of your driver. You can submit an official commendation for a job well done, not just on March 18, but any day. It's easy. Just go to trimet.org/thanks.