Take MAX Yellow Line to the show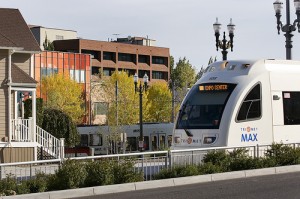 Cirque du Soleil is back in Portland for a five-week run at the Portland Expo Center. The show Totem begins Thursday, March 27 and runs through Sunday, May 4. With the big top set up in the Expo Center's parking lot, avoid parking hassles and hop on the MAX Yellow Line to head to the show. Trains drop you just steps away from the Cirque du Soleil tent!
During the Cirque du Soleil run, those who use TriMet's weekday-only Expo Center Park & Ride will see parking fees tightly enforced beginning at 10 a.m., which is standard. TriMet has access to 300 spots that are on a first come first serve basis and are only available for use Monday through Friday. TriMet's closest Park & Ride to the Expo Center is the Delta Park/Vanport Park & Ride, with 304 spaces available seven days a week.
During the weekend of April 4-6, the annual Portland Swap Meet will be held at the Expo Center. TriMet's Expo Center Park & Ride spots will not be available on Thursday and Friday, April 3 and 4 due to the swap meet. With two big events – the Portland Swap Meet and Cirque du Soleil – that weekend, plan some extra time and expect crowded trains.
Make your phone your fare
Who needs to keep track of yet another ticket? Our new TriMet Tickets mobile app lets you easily purchase and use tickets and passes for the MAX or bus instantly on your phone – anywhere, anytime. Just download the free app, register your debit/credit card in our secure system and you're ready to buy, activate and go. Learn more at trimet.org/mobiletickets.
Avoid the need to make two purchases by buying a day pass. It's the same price as two 2-hour tickets.
Day Pass Fares
Adults:                        $5
Youth:                         $3.30
Honored citizens:       $2
Plan ahead
TriMet's online trip planner also makes it easy to plan a trip, with information about service alerts, travel and walk times, transfers and cost. Visit trimet.org, or m.trimet.org for smartphones.