Apple iOS7 users to notice a new look when purchasing/using tickets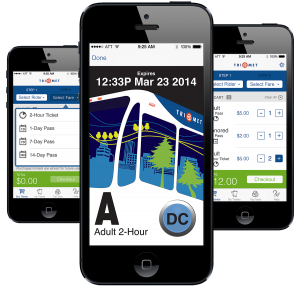 The TriMet Tickets mobile app continues to reach new highs – and high notes – with users. We are closing in on 700,000 mobile tickets sold!
When the snow fell a couple weeks ago, downloads of the free app jumped. We saw a daily average of 767 downloads during the storm compared to the daily average in January of 264. To date, the app has been downloaded more than 71,000 times.
Some TriMet Tickets app users will notice something different the next time they update their app. The new Apple iOS7 update features a slightly new look and feel, with what we believe is a sleeker interface design. The mobile tickets, complete with birds on it, will stay the same.
Don't have the TriMet Tickets app? Download it today!
If you haven't already, give the TriMet Tickets app a try! It's free for iPhone or Android users and easy to use. Download it, set up your account, register your credit/debit card into the secure system and get ready to ride paper-free!
You can easily purchase tickets and passes anywhere, anytime, and use them right on your phone. Please make sure you validate or launch your ticket before entering a fare-only platform and before boarding your bus or train. To give your app time to bring the ticket up, launch the ticket when you see your bus or train approaching. You are required to show a fare when riding TriMet so make sure you are ready, and make sure your phone's battery won't run out during your ride.
Learn more about this innovative mobile ticketing app
TriMet partnered with local software developer GlobeSherpa to create the app, the first to be used in the U.S. for riding both buses and trains. Learn more information about the TriMet Tickets app at trimet.org/mobiletickets.