10 TriMet bus lines will see more midday service; reducing wait and transfer times for riders
In less than a week, TriMet riders will spend less time waiting, see less crowding and more buses on 10 of TriMet's highest ridership lines. The upcoming March 3 service change will mean that TriMet's busiest bus lines will now serve stops every 15 minutes or better during most hours, Monday through Friday.
The following 10 bus lines, part of our Frequent Service network, will have increased weekday midday service, reducing wait times and transfer times for riders:
6-Martin Luther King Jr. Blvd
8-Jackson Park/NE 15th
9-Powell/Broadway
12-Barbur/Sandy Blvd
14-Hawthorne
15-Belmont/NW 23rd
33-McLoughlin
54-Beaverton/Hillsdale Hwy/56-Scholls Ferry Rd
57-TV Hwy/Forest Grove
75-Cesar Chavez/Lombard
The above lines now join two existing bus lines, line 4-Divison/Fessenden and line 72-Killingsworth/82nd Ave, that currently have frequent (15-minute or better) service during the morning, midday and evening commute hours.
Additionally, our busiest bus line, the Line 4, will see 15-minute or better service added on weekday evenings and all day on Saturdays also beginning on March 3.
This added bus service, totaling $3.1 million, is on top of $2.1 million the agency invested in September 2013 on 20 bus lines and the addition of a new bus line between Sherwood and Tigard to better serve Washington County.
"We are excited to be adding service and reducing wait times on our busiest bus lines," said TriMet General Manager Neil McFarlane. "We are not done. We continue to look for funding resources to invest in additional service that will benefit our riders and create better connections throughout the region."
Other spring service changes
A few other TriMet bus lines will see adjustments as our spring service schedule begins on Sunday, March 2. The following routes will see some additional trips added and/or slight changes in trip times to better match schedules to traffic conditions.
16-Front Ave/St Helens Rd
21-Sandy Blvd/223rd
46-North Hillsboro
Frequent Service Network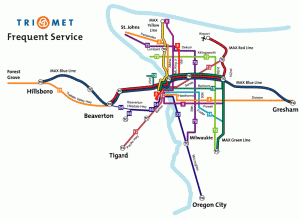 Our Frequent Service bus network, made up of 12 of our highest ridership lines, carries 58 percent of our bus riders. Prior to the Great Recession, buses on these lines ran every 15 minutes or better throughout most hours of the day. Due to budget shortfalls service was scaled back, reducing frequency on these and other lines.
TriMet is now dedicating resources to begin to fully restore frequent service and in some cases improve service on our busiest lines. Looking forward, the agency plans on investing additional funds to improve bus and MAX frequency, reliability and help ease overcrowding.
Funding
The $3.1 million in added service is funded by $1 million in non-union health care cost savings and $1 million in additional revenue from a new advertising contract. TriMet fares will fund the balance of $1.2 million.